I Changed Career from a Nurse to a Doula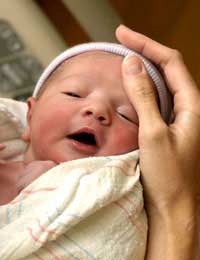 For Sue Prentice, 56, from Leeds, her out-of-the-blue redundancy gave her the opportunity to fulfil a career change dream. Although she was shocked at the Redundancy, having worked as a senior nurse at a private hospital for over 25 years, she was also rather excited about the potential to change direction.
Sue explained, "I had always loved my job. Even though it was terribly demanding and not particularly well paid, I felt a real sense of satisfaction as I knew I was good at my job and had made a difference to the mainly elderly people I had cared for over the years. The redundancy was not expected at all, but the hospital became a trust and the terms of employment were changed for many of the staff and we were offered redundancy as an alternative."
Not the Easy Option
With many of Sue's colleagues choosing to remain in their positions at the newly-formed trust, her decision to accept the redundancy raised some eyebrows. She continued, "A few people actually said that I was crazy to leave because, at my age, I was unlikely to find another job. Of course, in many ways they were right, but I was not planning to find another job as I already knew what I wanted to do."
Sue had long wanted to Retrain As A Midwife but, with her age and lack of qualifications holding her back, as well as a responsibility to bring in money to pay the bills, her dream had stayed on the back burner. The redundancy package on offer, while not especially generous, gave her the financial freedom to see if her dreams could become a reality.
Researching a Dream
Sue explained, "As I researched the possibility of retraining to become a midwife, I realised that there was actually a far more suitable role available; one which I'd never even heard of. The more I read about the role of a doula, the more I knew this was perfect for me."
A doula is essentially an 'assistant midwife' that works closely with the pregnant woman in the last stages of pregnancy and throughout the actual birth. In many ways, a doula is a type of 'surrogate mother' to the pregnant woman, in a similar way to how tribal births are performed. The doula is a medically-aware, caring professional who is able to support and comfort the pregnant lady, often working alongside a midwife for home births.
Sue continued, "I knew it was the perfect job for me because a trained doula is self-employed but can be connected to professional organisations. As soon as I had accepted the redundancy offer, I signed up to a Doula UK accredited training course which was due to start in two months time. This gave me time to speak to a number of doulas and people connected to the various agencies that provide doulas, and I gained so much information at every stage that I was sure I'd made the right decision."
The Right Move
Sue concluded, "At my age, I never thought I'd have the opportunity to follow my dream of becoming a midwife, but the redundancy actually gave me a new lease of life. I'm now a fully qualified doula and have assisted with three home births already. There's no job security as I'm freelance, but I'm pleased to say I've had excellent referrals from each birth and I'm gradually building up my network."
More Success Stories
Read many more inspiring tales of positive career changes in our
Success Stories Category
of this site.
You might also like...