I Learnt to Appreciate My Nursing Skills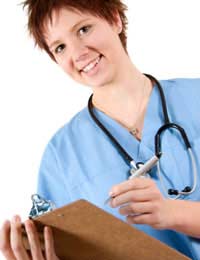 It is all too easy to undervalue our own skills and overvalue those of others. A recent client came to us to talk about her feelings of underachievement in their role as a nurse, working in the oncology ward of a major city hospital.
Highly Skilled But Professionally Unsupported
It was clear from the first five minutes of our first conversation that this lady was excellent at her job. She spoke with kindness and humour about the patients, appreciated the necessity of the human aspect at such painful times, and obviously took great care in the practicalities of her work.
The lady thought that she needed to find a new job. She said she was obviously not able to cope with the complexities of the role and was keen to Update Her CV so she could apply for something else less challenging.
We asked her what she felt she was unable to cope with at work, and which areas of her role were too challenging for her. Initially she said 'Everything', but, when pushed, she was not able to actually clarify a particular task that she felt she was unable to complete successfully.
We talked about her day-to-day work, trying to talk around her feelings. Her friendly manner and patient-focused attitude was clear to see, but it also became evident that she had not had any sort of positive appraisal for over two years.
Motivated By the Role
Working in an oncology ward, it was clear that the role was both emotionally and psychically draining. Manual handling of delicate patients was expected alongside reams of paperwork, while gentle yet demanding conversations with relatives would happen a few minutes after administering strong drugs to patients. Our client was clearly exhausted, but still highly motivated by her job and deeply caring about her role in the department.
Through talking to the client, it was clear she did not want to change career, but wanted to be appreciated in her current job. We worked together to take back control of her job and tried to find a way to get the feedback she required to help her self-esteem.
Plan of Action
Our consultation proved to be a turning point in that it helped our client to appreciate that she was really good at her job. We used a number of role playing techniques and interview questions to encourage her to see that she was a skilled nurse and a great source of comfort to patients' families at a difficult time.
Buoyed by our conversation, our client requested a one-to-one meeting with her senior staff nurse. She asked to have a Review Of Her Work and some guidelines as to how she could improve. Keen to commit to continued professional development, our client also enrolled on an additional counselling course, with a view to Developing Her Career in that direction, having gained considerable positive feedback from her review about her sensitivity and support for cancer patients and their families.
Changing Your Career
Are you also feeling unfulfilled in your job? If so, take a look at our
Questionnaire
to help you decide whether or not you are really ready for a career change.
You might also like...