How I Learned to Love Networking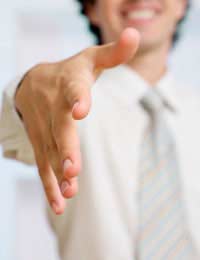 An exciting career change doesn't necessarily mean you'll keep all the good bits of your old job without any of the bad. There are often aspects of your new career that don't particularly suit you, but because they're more likely to make your new career a success, you have to grin and bear it.
For David Hutchins, 35, from West London, a career change also meant getting to grips with something he'd always hated. He told us, "After years working in marketing for a large investment bank, I Was Made Redundant during the global economic downturn. Although I was pleased to get a generous redundancy package, I also knew that I wanted to grasp the opportunity to follow my dreams rather than just getting back on the employment treadmill by trying to find another job in the same field."
Starting His Own Business
He continued, "I'd seen too many other people in my industry get depressed about applying for jobs and trying to
Get In With Headhunters
as there just weren't enough jobs to go round, so I made the decision practically as soon as I was made redundant that I would start my own business. With my redundancy money I could afford for it not to be a success straightaway, so I used that time to build it up."
After registering as a sole trader, David started a marketing agency from his spare bedroom, using his knowledge of the banking sector and the fact that many companies were making redundancies to push the benefits of using a consultant instead of paying someone full-time.
David explained, "I was very lucky in that I could see a great niche that I could exploit and I had the funds to tide me over until I made a profit. Even though I had a good list of contacts, though, what was really holding me back was that I really hate meeting new people and I'm terrible at selling myself! I knew that I had to overcome this in order to make my business a success, but I just really didn't know where to start."
David contacted Government start-up agency Business Link for advice about networking, but found that what he really needed was to throw himself in at the deep end. He added, "Business Link was good for telling me about networking events, and how important it was to do networking, but there wasn't actually very much advice on what makes a good networker. I decided to go along to a couple of events that weren't crucial to my business and basically learn from the masters!"
Learning How to Network
David signed up to be a guest member of his local BNI chapter (a networking group) in order to learn more without committing, or indeed to mess up his pitch in front of important potential clients. He was able to see each of the member's presentations and learn from what worked and what didn't in order to practise his own pitch. David then signed up to a public speaking evening course that gave him some tips on speaking confidently and professionally. He did find that much of this was rather dated and not particularly suited to the 'modern face of networking' which is more about relaxed yet informative chat rather than holding the floor.
He concluded, "By watching what other people were doing and picking up tips on what seems to make people more likely to want to talk to you, I've learned to be pretty good at networking. Here are some of things I noticed that the 'good' networkers were doing:
Remembering and using people's first names
Being prepared for the event by reading up on what projects the people you want to talk to have recently completed
Making sure that you don't just let people talk at you but have your time to say what you do to
What David has Learnt
"I've become far more relaxed at these events and realise that it's just part of being your own boss – no one but me is going to build my business and being in the marketing industry means that I am judged on how well I communicate from the outset. I can now say that I actually enjoy networking because not only can I see how it's enabled me to develop a successful business, but it's also allowed me to feel more confident in my own skin and in my abilities."
Starting Up Your Own Business
Thinking of
Starting Up Your Own Business?
Read our guide to the pros and cons of going it alone, and how to make a real success of your new venture.
You might also like...