What I Learned About Myself from a Career Change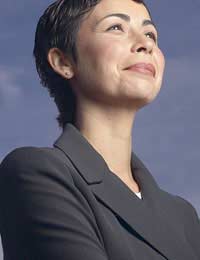 Although for many people a career in television production would be a dream come true, for one graduate it was a bit of an accident.
Louise Oliver, 34, from south London, completed a degree in creative writing 12 years ago. She intended to move to London with her flatmate and a number of other university friends and see what type of job she could find. Louise explained, "I have to confess that I didn't really have a plan! We just found a rented flat that was as cheap as chips and started to apply to any half-decent sounding job in the paper. Not very scientific I know, especially as I was applying to jobs like Recruitment Consultant, Advertising Sales and hotel receptionist!
"One of the jobs I applied for was as a runner for a relatively new television production company, and I was offered an interview. It was the first job I was offered and I accepted it, even though the pay was rubbish, because they promised me I would get loads of free tickets to shows and other freebies, which I thought would impress my friends."
So although Louise did not have the most auspicious start to her career in television, her positive manner and ability to do whatever was asked earned her a reputation for being good to have around. She was quickly promoted and, over the next nine years, found herself working as a television producer on daytime programmes.
Ready for a Change
Louise continued, "I did love the buzz of working in television, and thankfully the money really improved to the point where I was able to afford a mortgage on a lovely flat, but I found the very long hours and
Constant Stress
hard to deal with. I also felt as though the characters I was working with were no longer helping my mental health – everyone was back-stabbing everyone else, and we all felt like we could get made redundant any minute as the budgets were always being squeezed."
Louise decided to change her career, but was confused as to what she wanted to do instead as she had only ever worked in television. She explained, "I wanted to utilise my experience, but I knew that I didn't want to be in the television industry anymore. I started looking on the internet for recruitment agencies that might be able to help and I came across a vacancy for a lecturer in television studies at a nearby university. I applied and was called for an interview pretty quickly, and as soon as I started talking about the job I was convinced that it was for me!"
Luckily, the university felt the same and Louise was offered the job, as well as some additional training to help her deal with the organisational side of lecturing.
Lessons Learned
She added, "I can honestly say I love every minute of my job now. The money isn't as good as working in television, but it is more than enough to cover my mortgage and outgoings and I have far more time outside of work. I am also more settled in my job and feel like it is a real long-term career choice. I have found out more about what makes me tick too, and I'm a lot more patient than I thought. I'm less money motivated too, and don't thrive on stress as much as I thought before as I relish being able to relax and talk to my students without feeling like someone is waiting to pounce or criticise. Even though my job isn't as obviously glamorous as it used to be, I am certainly far happier and more proud of my work than ever before."
Looking For a Career In TV?
If you are interested in moving into television, read our tips on getting your foot on this career ladder in our article
Working In TV And Film
.
You might also like...