A Chance Meeting Led to a Career Change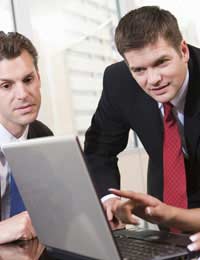 For Dominic Proctor, 39, a chance meeting with an old school teacher led to a career change that has, in turn, changed his whole life.
When Dominic went back to his home town in Northumberland to attend the wedding of a school friend, he was living in London and working in PR. Having worked his way up to account director, Dominic was understandably pleased with his career development and the financial stability his position afforded him.
A Great London Life
Dominic explained, "After completing my degree, I worked in advertising sales in London, but I took an evening class in
Public Relations
that enabled me to move into this more lucrative field. I really loved my job in PR – I got to represent some really great brands and was always being given brilliant freebies – and had bought a lovely flat in north London."
He continued, "When I went back home to my friend's wedding, I was really buzzing about my life – even though I was single and was always working – because I felt as though I had a great job and that I was good at it."
At the wedding, Dominic got talking to his old English Teacher who, although he hadn't been invited to the wedding, still lived in the town and came out to watch the couple arriving at the church. The teacher had retired but still did some voluntary work for a charity nearby that offered retraining and personal development support to young people.
Looking for Meaning
Dominic commented, "There was something about the way he spoke about the charity and his work there that made me realise how shallow my life had become. I'm not embarrassed to admit that I loved the work hard, play hard element to my job and was proud of what I'd achieved, but I knew that I didn't feel as fulfilled as my old teacher clearly did. When he asked me what I did for a living and I told him about PR, he happened to say that the charity really needed someone like me to boost their funding and grant situation. It was a real light bulb moment!"
Dominic felt that he could make a real difference by getting involved with the charity, but he was not entirely sure how it would tessellate with his life in London or his financial commitments. He added, "It got me thinking that there must be a third way of earning money – not just the cut and thrust of the rat race or the quiet of the countryside – while still doing something that makes your heart sing. Although I didn't want to pack up my London life and move back to Northumberland, I realised that I could use my PR skills, contacts and experience to start up my own agency."
Small PR Agency
After much careful research into how charity funding is obtained, the regulations involved and the types of channels that are used, Dominic set up his own PR agency from his spare bedroom. Specialising in gaining relevant PR for charities, Dominic is committed to keeping the business small and accessible. He intends to use freelancers wherever possible to avoid high overheads and has already gained a couple of excellent contracts.
He concluded, "It's one of the best things I've ever done. Although I don't earn anywhere near what I did before and I have absolutely no security, I have a sense of contentment that I've never experienced and the sky's the limit!"
Financial Support
What to make a change but not sure how you can fund it? Read our article
Where To Get Help With Funding A Career Change
for more information.
You might also like...