Holiday in France Made Me Change Career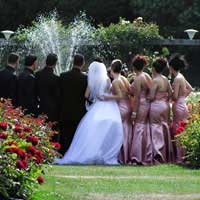 For many people that want to change career, an important hurdle to overcome is deciding what they actually want to do. It's all well and good if you know exactly what career change you dream of, but what about simply knowing that you want to do 'something' different, but have no idea exactly what that 'something' could be (see our article Deciding What Career You Want).
This is the situation that Lorna Craig found herself in, having worked as a conference organiser for a large chain of hotels for a number of years. "It wasn't that I didn't like my job," Lorna explained. "It was more that I always had a feeling that it was temporary, that it wasn't what I should be doing with my life. The problem was, I didn't really know what else to do, so I just kept going to work, week after week."
Light-Bulb Moment
It was attending a friend's wedding in the south of France in September that gave Lorna the light-bulb moment she had been hoping for. Sitting at the reception, talking to the mother of the bride about how stressful the whole process had been – liaising with the Town Hall, finding suitable venues, negotiating deals for guests in local hotels etc. – gave Lorna an idea of how she could use her
Skills
in a new way.
"There and then I decided that I would become a wedding planner, specialising in weddings in France. Having organised so many conferences in hotels over the years, I had excellent organisational skills and I had helped with a few of my friends weddings, too, so I felt that this was the opportunity I had been looking for."
Rather than leap to hand in her notice and tell all her friends and colleagues about her exciting new adventure, Lorna decided to keep it under her hat for a little longer. As the main wedding season is from May to September, both in the UK and most areas of Europe, Lorna decided to spend the next few months working on her business plan and building up her contacts before leaving her present job and the security of a regular salary.
Preparation is Key
"I knew that I needed to work hard in order to be ready for the main wedding season. Of course, I couldn't just wait until then, so I attended a number of wedding trade shows to understand the business more and I built up my contacts through the hotel industry. I also spent all my free time in France, going round the pretty towns that were well served by low-cost airlines, trying to make contact with venues, hoteliers, florists and caterers."
Lorna's hard work paid off when the daughter of one of her father's colleagues asked her to help plan her wedding. The bride-to-be knew that she wanted to get married in a little village in the south of France, but didn't know where to start.
"I was so pleased to get my first job," Lorna told us. "I made sure I listened closely to my client and was able to learn so much. I charged a flat fee of 10% of the wedding costs, which earned me around £1,000, so I could see that this was a viable business, especially as I gain more high-value wedding clients. I've now completed six weddings and have a pretty full order book, so it looks like I'll need to take the plunge and hand in my notice before the manic season starts. I'm so pleased I kept my ears open for a new opportunity, or my friend's wedding in France wouldn't have led me to my new career!"
More Success Stories
Be inspired by how other readers have made positive career changes by reading the features in our
Success Stories
category of this site.
You might also like...