From a Bank Manager to a Business Advisor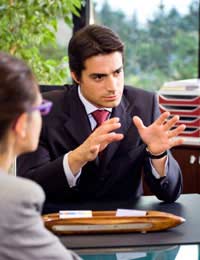 For many people that decide to change career after a long period of time in a particular role, they have not come to the decision lightly. More often than not, the person has struggled for some time, with many aspects of their potential career change causing them some cause for concern.
Career Advisor's Casebook
For the majority, there is a sense that they have to make a change in order to be true to themselves, to not live for the rest of their working lives in a role which is making them progressively more unhappy.
There is also a sense that they will be letting their spouse, children and/or their parents down by making a change. This is especially true when there is a financial implication to their career change, as there so often is in the first instance, even though the happier person tends to end up earning more than they did anyway.
It was this internal struggle that was causing problems for one client. As an experienced bank manager, he enjoyed a number of social and financial benefits and a real sense of job security. He liked training staff, working with members of the local community and seeing his branch rewarded at company functions.
The Good and the Bad
However, it was also these issues which frustrated him. He had felt for some time that the focus of the bank was sales, rather than financial services and so found it hard to encourage his team to sell financial products that he himself did not believe in. But as a hard-working employee, he was keen to reach his personal and branch targets, which he consistently did, but it made him feel a fraud to his own beliefs.
Our client was growing increasingly annoyed with himself for going along with sales drives for loans and financial products, which was starting to cause him medical problems due to stress and his family life was starting to suffer. He also felt his training in business and financial advisor was becoming worthless.
Our first consultation led us to talk about potential career moves that would make the most of his valuable training, while moving away from the target focused aspect of sales that he found so problematic. There was a degree of 'reality check' needed when we talked about the fact that the vast majority of jobs in the current economic climate involved some aspect of sales and tended to be, at least in some way, target driven.
The Realisation
This led to a lengthy discussion where we discovered that it was not actually targets that were the issue, more the idea of working towards something that he was not comfortable with and being rewarded for it.
By having this realisation, we were able to conclude that actually our client wanted to find a role that was more like the job he first had as a bank manager, rather than what the role of bank manager had become.
We started talking about business advisory roles, both in the public and private sector. It became clear that he enjoyed talking to a cross section of the public and being able to help them build their businesses thanks to his considerable financial expertise. Although he toyed with the idea of starting his own consultancy, he felt that he did not want the pressure and complication of dealing with extraneous aspects of a new business, so he applied for a number of business advisor roles, including the Princes Trust and Business Link.
More Successful Career Changes
Find out how other readers have made big changes in their careers in our articles in the
Success Stories
category of this site.
You might also like...