A Retraining Diary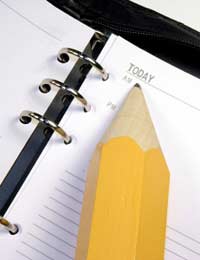 Taking the brave decision to retrain is not one to be taken lightly. All too often people go on some terrific holiday and get all fired up to do something different and hand in their notice as soon as they return to work.
Of course, that's one way of doing it and, for some people, making a crazy decision is the best way to make something happen. But for the majority of us, a major decision such as deciding to retrain is one which needs some consideration.
Career Advisor's Casebook
When Ross contacted us and asked for guidance through a period of retraining, we were only to happy to hold his hand through the process. Retraining is not necessarily a sure-fire way to get a well paid, stimulating career, so you can't just launch yourself into a retraining programme and assume you are making a good move.
Career Advice
During our initial meeting, Ross discussed his plan to retrain. Having spent 15 years working in insurance, following a history degree at a respected university, he was keen to start afresh. Ross felt that he had 'drifted into' working in insurance and, while it provided a good standard of living for his wife and young family, he did not feel fulfilled or challenged. Ross was well aware that his job was secure and purposeful as he was an
Insurance Broker
for life insurance for his local market town and had a good local reputation, but he felt like each day was the same as the last and the same as the next.
The Key Issue
The key issue seemed to be that he felt this was his 'last chance' to feel fulfilled. His children were at the local state school and were years away from planning expensive developments like university or marriage, his mortgage was easily affordable and he had his wife's total support.
Although all this support and practical positivity may seem like a help in planning to retrain, Ross actually felt guilty, as though he had it easy and should not make things more difficult. It also made it hard for him to appreciate exactly what he did want to do, other than the knowledge of 'something different'.
Our time was spent talking through different times in his life that Ross felt truly alive, what were his Hobbies And Interests, holidays he had really enjoyed, and people he looked up to. Initially appointments were all about understanding what he wanted to move towards, rather than simply move away from. We talked about what drew him to study history at university and what he had originally 'wanted to be when he grew up'.
If You Can, Teach
It became clear that Ross had a passion for history and for sharing his passion. Insurance filled a need to deal with people on a daily basis, but he was often tired of dealing with jaded adults. A later discussion showed that he had wanted to take a PGCE course after his degree but his parents were not keen, seeing teaching as a 'lazy option'.
We talked about this viewpoint and he realised that a great Teacher is very different from an average teacher. We looked into Possible Funding and new Government schemes to encourage new teachers, allowing on-the-job training that ensured both payment and potential for becoming a fully qualified teacher from day one.
As this scheme has regular start dates throughout the year, we were able to complete the application form in time for the next intake. After a few years of hard work – teaching and studying at the same time – Ross gained Qualified Teacher Status (QTS) and is currently enjoying (almost) every moment of his job as a history teacher.
More Inspiring Stories
Be inspired by more of our success stories from readers, including James, who gave up a recruitment career to work with
Disadvantaged Children
, and Lorna, who became a
Wedding Planner
.
You might also like...
To me it sounds like this person was sensible, honest and doing something that is obviously rewarding.Stereotypical or not, I think there's some important issues that everyone needs to address.The point about moving toward as opposed to away from is a great way to look at it.
dayster
- 19-Aug-11 @ 9:08 AM
Come on, give us a better case study. To say it's stereotypical for retraining as a teacher is an understatement. It's a career choice that welcomes mature entrants and it also neatly dodges serious obstacles like ELQ's which are a show stopper to many of us.Tackle something harder like a 40 something guy in IT (not rich) with undergraduate and Masters who wants to retrain in a scientific field.
StuckDownaHole
- 13-May-11 @ 8:47 PM