My Husband and I Bought a Franchise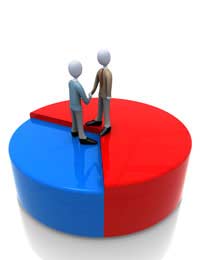 For Joe and Lynda Beckett from Leeds, the idea of being self-employed had long been appealing, but it wasn't until a chance meeting with a franchise owner put them on a new path that they thought it could be a reality.
Lynda explained, "Both Joe and I had worked since we left school at 16 and thought we had jobs for life – Joe worked in the bank and I was a legal secretary. We both enjoyed our jobs in that they paid the mortgage and gave us a secure standard of living, but neither of us felt like we were really living."
Joe and Lynda both felt as though there was a better option available to them out there, but were unsure as to how to go about making a career change that would tick all the right boxes. Joe continued, "We'd paid off our mortgage and our three kids had all left home and were doing their own thing. We felt like it was now or never to make a change, but the truth is we didn't really know what to do. Neither of us had a burning ambition like other people seem to have, other than we knew we wanted something different."
The Possibility of Something New
It was a chance meeting at a friend's 50th birthday that helped Joe and Lynda make up their minds. Joe continued, "I got talking to a friend of a friend about work, as you do, and he told me that he'd recently bought a recruitment franchise. I'd never heard of it so I asked him to tell me more, and it turned out that the company specialise in supporting people to set up a recruitment business in their field of expertise. I found it fascinating, especially as the chap was so happy with his choice and the support he'd had, not to mention the fact that he was
Working From Home
and making good money. I took the details of the company and vowed to tell Lynda all about it."
Lynda continued, "On the way home from the party Joe told me all about the man he met and the recruitment franchise. He was so fired up about it, particularly because he thought that he could use his banking experience. We agreed to call the company first thing on Monday morning to at least find out more information, and we spent the next day researching the company online to see if we could find out anything positive or negative to make sure we weren't getting into some sort of scam."
Having found good feedback online, Joe called the recruitment franchise company and agreed to have a meeting at their home the following week. The couple prepared a great list of questions to ask the franchise representative, and Joe spoke to trustworthy colleagues at the bank about the pros and cons of buying a franchise.
Joe said, "Of course, I was careful not to say anything about our own situation, but I gained some invaluable advice about how much is a fair price for a franchise, what up-front costs need to be included, what support is required in terms of sales and marketing or IT and so on, so I felt really well prepared when the meeting come around."
Ready for the Next Step
During the meeting, Joe and Lynda were happy to learn all about the franchise opportunity. With the possibility of signing up to a one year contract with unlimited support for a set fee, the couple were most keen to understand how they would be able to use the available support to build their business, and how the profit they made would be kept. It was clear that a percentage of the profit would be taken by the franchise company, and that certain rules and regulations, such as types of advertising, ways of reporting and certain contractual agreements, would need to be adhered to.
Although Joe accepted that this structured way of Being Self-Employed would not suit everybody, he pointed out that as he and Lynda had both been employed in relatively strict, regimented organisations for many years, he thought the idea of buying a franchise would be a happy half-way house that meant they would be their own bosses without having to do it all themselves.
Another Success Story
Read how one successful PR executive took a different approach to his career after a chance meeting with his old teacher in our article
A Chance Meeting Led to a Career Change
.
You might also like...