I Knew I Wanted to Work from Home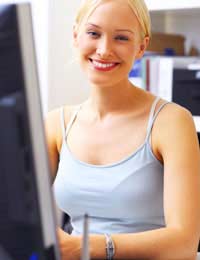 For many of us, we know what we don't want to do and we know what we do want to do, but it can be really hard to work out what career will give us what we're looking for.
Career Advisor's Casebook
It's easy to say, "I want to spend more time with my children" or "I don't want a job that means I have to make cold calls" or whatever, but turning those thoughts into a salary-paying job or a money-making venture is quite a different matter.
This is exactly the situation that Judith Fellows, 41, found herself in when she was on maternity leave with her second child.
Judith told us, "I had worked for many years in medical sales and there were elements of my job that I loved and was good at, like speaking to pharmacists, explaining the features and benefits of new products and gaining new appointments. But I really hated the amount of hours that I was required to drive up and down the country. It really felt like wasted time, especially after I had my first child and wanted to stay closer to home."
End of Maternity Leave Blues
By the time Judith had her second child, she felt that she did not want to return to the same job after her maternity leave ended.
She continued, "I couldn't bare the thought of all that driving. I felt as though I had graduated from that part of my job, but there really wasn't a role at the company that didn't involve that, unless I took a huge pay cut. I was prepared to do that, but there wasn't a vacancy anyway and I would have ended up resenting the role."
Judith decided to take some professional careers advice as she wanted to gain some perspective. As she was on maternity leave, she wanted to ensure that she was acting fairly to her employer, as she needed to inform them of her intentions to return to work within a certain time frame.
In speaking to the careers advisor, Judith was able to see that she needed to make some changes.
She told us, "The careers advisor asked me how I felt about my current role. We talked about my job and what aspects of it I felt good at and what aspects I would like to change. In talking about the parts I felt positive about, it became clear that I was really clinging onto the job. It got me thinking about how I could find a new job that involved the aspects I love."
The Light Bulb Moment
Judith realised that she wanted to spend more time at home with her two young children, without needing to rely on childminders or family. She also wanted to make a similar amount of money as before, so she needed to find a professional option and wanted to use her skills gained in medical sales to her advantage. Having spent time looking at potential jobs, Judith had a light bulb moment.
She explained, "I was looking for a job that didn't exist, so I decided to start my own business from home, using the contacts and skills I had built up. I launched an online business that offers new product support to independent pharmacists and it enabled me to utilise my experience, rather than starting from scratch. The business was quickly profitable and I have just recruited my first employee – also a mum who works from home."
Setting up your own Business
Do you have aspirations to work for yourself too? Before you make any decisions, read our article
Starting Up Your Own Business
.
You might also like...