I Was Headhunted at 63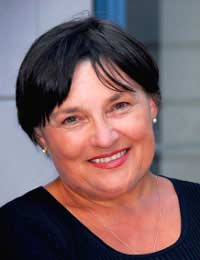 For many people, approaching their mid-60s is a good time to slow down and get to really enjoy the fruits of their labour. But for Elizabeth Nicholls, her 60s were a time of great professional achievement.
Early Married Life
Having
Trained As A Nurse
in her late teens and early 20s, Elizabeth spent much of her 30s and 40s bringing up her four children and caring for elderly relatives. She explained how she found these years fulfilling emotionally if not financially.
She said, "I absolutely loved being a nurse, and I was awarded an important trophy for my progress at 21. For a few years after I was first married, I continued to work as a nurse at the local hospital, taking time out only to have my two eldest children. During this time, my husband set up a business that became very successful, so more and more of my time was spent supporting him in the day-to-day running of the business."
She continued, "It was also around this time that my mother became ill and required daily care, so I stopped working as a nurse and dedicated my time to my family. Over the next 20 years, the business grew and we had two more children, and there were also a number of elderly relatives in the family that needed care, which I was proud to do as I had the training and it meant that they did not need to go into a home."
Utilising Available Time
As Elizabeth reached her late 50s, the last of the relatives she cared for had passed away and the family business had been sold, leaving her with more time to herself. However, Elizabeth did not simply want to spend time enjoying being a lady of leisure, and so started working at a local care home. She told us, "I was in a fortunate position to not really need the money, so I did not have to work too many shifts, although I will admit that it was lovely to be paid for my skills. I work at care home that is very well run by nuns, and it has the most wonderful atmosphere and takes great care of its residents."
Elizabeth's role at the care home is to engage the residents in creative projects, as art therapy, hand-eye coordination and creative 'play' is widely recognised as being of benefit to elderly patients, especially those with reduced mobility. As Elizabeth excelled in the role, her employers were able to charge more as a day rate to its patients, and could gain valuable additional funding.
Getting Headhunted
Elizabeth explained, "This commercial benefit is what, I believe, helped me catch the eye of another larger care home, who contacted me to offer me a role that was for fewer hours at higher pay. Of course, I was flattered to be
Headhunted
at 63, so I agreed to go along to meet the people there. I must confess that even though the care home was larger and had excellent facilities, it did not have the same patient-focused approach and peaceful atmosphere of my existing employers, so I did not accept the role, but not only was I able to suggest a younger colleague who would really suit the place and appreciate the money, but I was able to negotiate a better contract for myself too!"
Make Yourself Known!
If you stand a chance of being headhunted, you've got to make yourself known! Our feature
How To Get Noticed By Headhunters
reveals the three best ways to stand out from the crowd.
You might also like...