I Turned My Dressmaking Passion Into a Career: A Case Study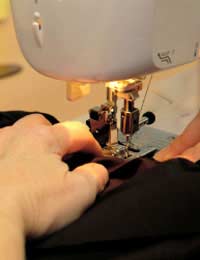 For Lynne Coulter, 45, the recession has given her the boost she needed to start her own business.
Lynne told us, "I'd been working as a part-time manager at the local hotel for a few years and, although I really enjoyed my job, I found that the hours weren't really earning me enough money. Even though I was only part-time, it may as well have been full-time because the hours were so erratic I never seemed to have time to do anything else."
Reduced Hours, Reduced Money
At the beginning of 2009, the hotel where Lynne worked was finding it particularly difficult to guarantee a decent number of hours, especially as the usually busy period of Christmas and New Year had past without many bookings, and the profits were really down on the previous year. Consequently, not only did Lynne have fewer hours, but the atmosphere at work was very negative.
Lynne continued, "I'd always enjoyed making my own clothes and soft furnishings and often made things for friends, including the bridesmaid dresses for my niece's wedding. For many years I'd toyed with the idea of Starting Up My Own Dressmaking Business, but it never seemed a good time and I didn't feel like I could give up the security of my job. However, once that security was starting to falter, I no longer felt like it was worth staying at the hotel, especially as I wasn't really enjoying it too much anyway."
The last push for Lynne came when a friend of a friend asked her to make a number of dresses for a local dancing school's annual gala performance, which would give her a guaranteed income for the first two months.
Getting Good Advice
Lynne explained, "I went to my local council office to ask if they could tell me the best place to get small business advice because I wasn't sure if it was right for me to go self-employed, become a sole trader or whatever. They pointed me in the direction of the local Business Link and I had an appointment the next day to speak to an advisor."
Lynne was advised to register as self-employed straightaway. She started her small dressmaking business from her spare room and decided to try to gain new customers by joining a local breakfast Networking chapter, as well as attending local wedding fairs.
Lynne added, "It's been a really slow start and I'm pleased that I had some savings and my husband's wages to help me through. It's still early days, but I know that it's up to me to make the business work, rather than being at the mercy of the hotel bosses deciding, or not, to give me more hours. I have finished the dresses for the dancing school and I'm looking forward to seeing them on stage! I'm also a sponsor of the programmes at the gala so I am hoping that some of the mums who work full-time will use me to make their costumes for the next show. I'm not aiming to earn a fortune, but it is lovely earning money doing something I love!"
Dressmaking Careers
To find out about the many career opportunities in the dressmaking and textile design sector, read
Our Guide
.
You might also like...