I Knew I Had to Change Career Direction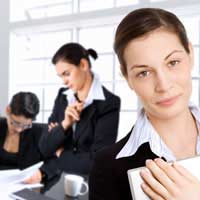 As many of us spend at least eight hours a day, five days a week at work, the impact it can have on our health and wellbeing is not to be underestimated. If you feel good about your job, are valued at work and are content with your salary, it certainly makes it easier to feel good about yourself and your achievements.
Conversely, feeling undervalued at work, constantly dealing with the threat of Redundancy, or battling with difficult colleagues can play havoc with your self esteem.
It's Hard to Leave
Unfortunately, it was the less appealing situation that our client found themselves in. In fact, they had been in this situation for a number of years and, as is sadly all too common, they had not felt strong enough to challenge it.
It was in this state that they made the appointment with us, so it was a situation to deal with quickly and effectively. The 32-year-old woman told us, "I have a good degree and 10 years of excellent work experience as a work permit advisor. I love dealing with different people but I am so frustrated with all the paperwork I have to do for even the cases that we don't take on. The boss is also a real tyrant who brings his marriage problems to work and talks for ages, then tells me off for not completing my to-do list."
Wanting to Leave but Not Waste Her Experience
Our client told us that she had become more and more disillusioned with her job, but did not want to waste her extensive work permit and immigration knowledge. As it is such a specialised area, she was unclear as to what other jobs she could look for and felt the only option was To Resign and start from scratch in another career.
Our starting point was to talk through the aspects of her job that she enjoyed. She was passionate about talking to people and helping them move on in their lives. She loved being able to tell people that they had their work permit granted and had excellent communication skills.
Next, we talked about her hobbies and her life outside work. Although she felt this was unnecessary, as career advisors we wanted to work out what made her tick and where her true interests lie in order to make 'out of the box' suggestions that may free her up to apply for new jobs.
Marrying Hobbies and Careers
The aim was to find a career that would value her work permit and immigration experience and tap into her true character. The turning point when she told us that she loved travel and staying in nice hotels.
We realised that there was a cross over for providing work permit advice to international hotels, as they employ a number of foreign staff. This led us to look at the recruitment sites for hotels and Rewrite Her CV to be focused towards this industry.
Within three weeks of her initial call to us, our client had applied for four internal human resources positions at major four and five star hotel groups. She was offered two interviews and gained a well-paid career that gave her a great deal of international travel, staying at great hotels and really valued her work permit writing experience.
Avoiding Career Change Mistakes
As most people will only make a career change once in their lives, it's so important to thoroughly research your new vocation to ensure it is right for you. To keep you on the right track, read our article
Top Mistakes When Changing Careers
.
You might also like...