How to Resign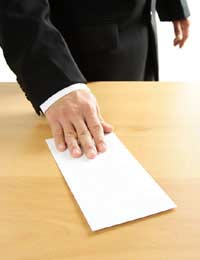 If you are planning to resign from your job, you need to do it in a professional manner. Whether relationships at work have soured, you have a great new job to go to, or you are leaving for another reason, you need to handle your resignation well. Wait until you are absolutely certain you are going to leave and write a clear and polite resignation letter. Whatever the reaction, remain professional and try not to cut your ties in case you need the contacts in the future.
Be Patient
When you have been itching to leave your job, it can be tempting to jump in and resign too quickly. If you have been offered a new job, wait until it is all confirmed in writing before handing in your resignation. You don't want to have to turn round and ask for your job back if it all falls through. If you have chosen to resign for another reason, make sure you are certain it is what you want before you go for it.
Resignation Letter
Once you have decided to resign you need to write a resignation letter. This should be short, professional and to the point. State your reasons for leaving but keep it friendly – this is not the time to get your own back or make any accusations at anyone. Explain that you will work your notice and give the date that you intend to leave. If you have any holiday or benefits to claim, make this clear, too.
Be Professional
Announcing your resignation can be nerve-wracking and exhilarating. Try not to let the news seep round the office until you have officially handed in your resignation letter (see our article
Keeping Career Change Plans Private
). Pick a good time to do it, stay calm and don't say anything that you might regret. If your boss offers you more money or a promotion to stay, you need to be clear if there is anything that you would accept. Let your colleagues find out through the official channels so it does not come across as
Gossip
.
Don't Cut Your Ties
However excited you are about leaving your current job, you don't want to cut all your ties when you resign. You may need the contacts in the future and it is always good to keep the option of returning open. Handle your resignation with care and don't say anything accusatory. During your notice period work hard and remain professional until the very end. Once you have left, keep in touch, pop into the office and go for drinks with your former colleagues.
Deciding to resign from your job is a big step and one that you need to think about carefully. Once you are certain it is what you want and have a firm offer on a new job, you need to write a resignation letter. Handle your resignation professionally and don't let your colleagues gossip about it before you have told your boss. Work hard during your notice period, don't say anything that you might regret and make and effort to keep your contacts in case you need them in the future.
Requesting a Reference
When applying for a new job, you will usually be asked for at least two references. Gaining referrals and references from past colleagues and contacts is a major factor in the potential success of your career change. Find out more in our article
Requesting References And Referrals
.
You might also like...