I Hate My Job - What Should I Do?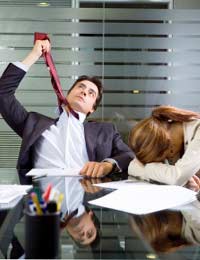 Given most of us spend a fair proportion of our time at work, being in a job we hate is not a situation to ignore. Working life will undoubtedly have its ups and downs, but if you hate your job, not only will it be difficult to get out of bed in the morning, it will be equally difficult to Keep Yourself Motivated during the day. So what should you do if you hate your job?
There are many possible reasons for why you hate your job, but it's important to search inside yourself and come to the root cause of your unhappiness. It's easy to blame the obvious, such as I don't like my boss, but if the cause is deeper, then making simple changes won't make enough difference.
How Long Have You been Unhappy In Your Job?
It's important to understand if you truly hate your job or if you're just unhappy at the moment. Is this a recent development or have you been unhappy for a while? If it's recent, has anything happened, perhaps work or non-work related, which may be having a knock-on effect? For example, if you've recently had a new baby, lack of sleep may mean you have less energy, and patience, at work. If your unhappiness is long-term, then consider what it is that you really don't enjoy.
Is It The Work?
It's very possible that you hate your job because the work does not suit you. If you've been unhappy for as long as you've been doing the work, despite management or company changes, it is possible that you are not well matched to your job. Consider the types of activities that you enjoy (both at work and outside work) and think of how well these match, or not, to your current work. Perhaps you're in need of further challenges and development.
It's easy for a Career To Stagnate without even realising it. Consider how your work has changed over the past five years; if it hasn't changed much, perhaps you are in need of something new.
Is It The People?
If you don't like the people that you work with, then it's difficult to enjoy your job. If you really don't like working for your manager, it's up to you to find an alternative. If you've had long-term issues getting along with people, perhaps you need to consider your work relationships and how you could improve them.
Is it possibly the company's culture? Some people enjoy working for small companies and find big organisations over-bearing and bureaucratic; others find small companies limiting and lacking structure. Every company is difficult, so it is not wise to make assumptions. However, it is possible that you simply don't match the culture of the company.
Next Steps
If you hate your job, it's up to you to do something about it. If you've done your soul searching and understood what it is you don't like, then you can start your action plan to make changes. If you are in the wrong job, you need to do some research to understand what skills you need to get you into a job you would enjoy. Changes don't happen overnight, but you can always start building up the abilities that will help your chances of moving.
If you've decided that you enjoy the work but it is the environment or people that you don't like, then you need to decide if you hate it that much to warrant moving. Sometimes moving to a different department or function may be an option and a different team of people might make all the difference. Sometimes it's just a new environment, which has a positive effect on our outlook.
It's not healthy or motivating working in a job that you hate, so if you conclude that you really don't want to continue working in an environment, you'll need to take action to find somewhere that suits you better. Remember, it's also possible that other factors, such as outside work, are influencing your happiness. So before making any big decisions make sure it's making changes in the right way.
Career Change Quiz
Take our
Quiz
to find out if you might be happier making that career change.
You might also like...