Becoming a Mechanic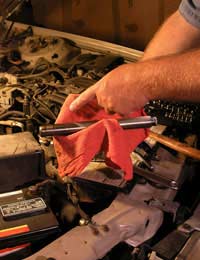 It seems as though most people either love or hate mechanics. Vehicle owners have either found a competent mechanic that they trust, or else they have a long list of horror stories about how their car emerged from the garage in a worse shape than when it went in. Mechanics service and repair practically anything with an engine and wheels, from motorbikes to lorries and coaches. They work with a wide variety of systems, both mechanical and electrical.
Apprenticeships
One excellent way to accomplish a career change and become a mechanic is through an apprenticeship. This type of arrangement allows you to work, get paid and learn the job at the same time. You'll find out about the actual working conditions of the job first-hand while you are trained under the mentorship of an experienced mechanic. However, you should be aware that most mechanic apprenticeships are really only available for individuals aged 16 to 24.
If you're already working somewhere else and want to change careers, there are other ways to become a mechanic. Local shops may be willing to hire you and provide on-the-job training, especially if you demonstrate an interest in and knowledge of automotive mechanics. You should expect this type of learning-while-earning arrangement to last from three to four years. Alternatively, if you can afford to take the time off without regular pay, you can study full-time at a local college to get the training you need. Yet another possibility to look at would be completing a vocational qualification after following a self-study course.
What Skills?
Today's automotive mechanic works with finely-tuned, computer-controlled engines. Repair shops will be looking at your background not only for industrial arts and safety training, but they will likely want to see some computer science as well. In addition, you must hold a driving licence valid for the type of vehicles you'll be servicing. Finally, given the demands of the position, you should be in good physical condition.
Other Skills you will find useful as a mechanic include knowledge of motor vehicle technology and new developments in the industry. Good problem-solving skills are a must, and your employers and customers will be happier if you work quickly and accurately.
Typical Job Role
What are you likely to be doing on a daily basis if you become a mechanic? Of course, you'll be repairing vehicles that have developed a problem or have been involved in an accident. You may also be involved in regular maintenance to keep vehicles operating in peak condition. With experience and extra qualifications, you may become involved in MOT testing. You will be working with a wide variety of hand tools, power tools and electrical equipment.
The outlook for mechanic jobs remains strong. In fact, as vehicles become more complicated and as government standards become more stringent, properly maintaining them will require professional servicing. You may find employment in several different venues, including local garages and national chains. There are also opportunities for mechanics wherever you find a large fleet of vehicles, including police agencies, taxi companies and even the armed forces.
Engineering Opportunities
Ever thought of working as an engineer? If so, our article
Working in Construction & Engineering
will give you an insight into the job propects and training requirements.
You might also like...
Hi im 17 and wondering where can i get apprenticeships???
umair
- 23-Sep-12 @ 10:34 PM
I have a son who fro one reason or another can't cope with college. He has been accepted on an apprenticeship but still can't cope with college for one day. He has been learning mechanics for 1 year and is very competent. Is there any learn from home - self study that he could do so that he can get qualified and not let his inability to go to college leave him on the scrap heap?
helpme
- 17-Sep-12 @ 1:20 PM
I am 15 (almost) and want to be a Mechanic (HGV) and wonder where do I start, what qualifications do I need etc.I have just started 4th year and am looking to head in the right direction. Any advice would be gratefully received. thank you
Matt
- 12-Jun-12 @ 12:57 PM
Hello, im 27 years old and have a passion for cars but dont have any qualifications with vehicles and really want to become a mechanic. So far i have read that many companies only take on apprentises you if are aged between 16 and 24, is there any way of getting an apprentis posistion at my age?
Sam85
- 20-May-12 @ 10:54 PM
why did you just send me the machanics stuff and not the engineering things from garry
mik
- 20-May-12 @ 12:24 PM
@mechanicgirl. You have understood it correctly. You can't start an apprenticeship until you're 16. You may be able to do a vocational course that is related to car mechanics in school, before you get to 16 . Ask your form tutor for details.
ACareerChange
- 23-Apr-12 @ 10:19 AM
hey im only 14 and in year 9!i want to become a mechanic, I thought that the best way to do that is to start training in work experience next year then move on to a school-based apprenticeship or traineeship. The only knowledge I know about a car is just the basic stuff that my older brothers have taught me over the years (like checking the oil and water and how to change a tyre). I thought that, that was the best option but I don't really know and I was just looking to see if anyone had any other better ways to start off my career!thanks! :)
mechanicalgirl
- 21-Apr-12 @ 1:43 PM
I am 27 and interested in becoming a mechanic, although I have never done any practical mechanics before. What training options are available to me?Also, I am female and concerned about whether I am likely to face discrimination because of this. Any advice welcome.
Hi, I know apprenticeships are only available up to 24, however I'm 26 and really want to change careers and become a mechanic. Is there anyway I can do it?
kevtlr
- 14-Feb-12 @ 8:18 PM
hey im interested in working on police cars im only 15 and yer of course im a girl whats a good website to go on ?
becky r
- 9-Jan-12 @ 11:59 AM
Hey, I am a female interesting in doing the 4 year course at college to become a mechanic. I have always been interested in cars, but the most work i've ever done on one is changing a flat tire and tire pressure stuff. What would be some basic knowledge that i should learn before going into the course so i at least know somewhat what i'm doing until i learn the material?
Hi, I work for Action for Employment (A4e) in Leeds, West Yorkshire, where I help the unemployed find suitable and sustained employment. I have an 18yr old customer who has expressed an interest in working as a mechanic and has some previous college experience, but no quals. Can you offer any advice on how I can proceed with my customer in helping him to gain an apprenticeship please?
Marc A4e
- 27-Oct-11 @ 1:52 PM
Im looking for a apprenticeship in mechanics I have a 2 year old son. I'm 21 years of age and I would like to have my own garage by the time my Son is 18, so I can pass it down.
Spencer
- 12-Oct-11 @ 1:57 PM
Charley Cars, whats your real name? You remind me of a friend I know in Gford lol. Does anyone know how long after starting an apprenticeship I can hand in my notice? Say, its only been a month and i hate it! How soon?
BooRJ
- 21-Jun-11 @ 4:38 PM
Very interested in becoming a mechanic from scratch Can any independent company or national employ me.
mark
- 9-May-11 @ 10:15 AM
Hey I am only 14 and when am older I would like to be a Train Mechanic which I have heard about and this sounds good ! Do you have any relevant information about what I have to do to become a train mechanic and how much money I could earn a year?
I'm female and would like to become a mechanic, however when I speak to blokes at garages about it, they seem to find it highly hilarious and think it's a joke. They also have the nerve to suggest that a receptionist type job would suit better, and to be quite honest, yes I'm a girl but I'm not afraid to get my hands dirty and I grew up around cars so it's something I would really like to do.
CharleyCars
- 31-Mar-11 @ 3:01 PM
Hi, I'm 20 and looking for an apprenticeship in mechanics, however I'm female and noone seems to want to reply to my applications. How is the best way for me to try? Mechanics is a career i've wanted to get into for years. Can you help? Thanks.
Kwheeler
- 28-Mar-11 @ 3:39 PM
There are many vocational courses available at colleges in most areas. They combine practical work (working with trained mechanics) with college work. This would be your best route and can often by taken part time to fit in existing work committments.
ACareerChange
- 15-Mar-11 @ 11:38 AM
Hi, I know apprenticeships are only available up to 24, however I'm 26 and really want to change careers and become a mechanic. Is there anyway I can do it?
Rfisher84
- 15-Mar-11 @ 11:18 AM