Brother's Illness Gave Me a New Career Focus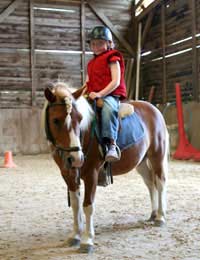 When her seven-year-old brother Joel was diagnosed with autism, Melanie Goldman had no idea that it would lead to a fulfilling career for her. As the family came to terms with the difficulties that Joel may face, Melanie realised that her own future was looking more positive thanks to the new direction that Joel's situation led her towards.
Career Uncertainty
Melanie, 24, had worked as a
Classroom Assistant
for four years and was starting to feel a little disillusioned about her career progression due to a lack of teaching qualifications. "I loved the school where I worked," Melanie told us. "But it was clear that there wasn't much chance of career progression without taking time out to study. Other people in my role at the school seemed happy to stay doing the same job – most were married mums who worked part-time – and I was aware that I had gone as far as possible at my grade."
Melanie did not want to go back to Full-time Studying, both for financial and practical reasons, so was unsure how to move forward. Having spoken to her head of department at the school, it was clear that there were not going to be new opportunities at the school with her current qualifications, even though they were pleased with her performance as a classroom assistant.
How to Move Forward?
Following Joel's diagnosis, Melanie's parents were keen to make sure they were gaining as much support as possible to ensure Joel was able to progress as a happy, contented child. They tried a number of ideas to help Joel, but the activity that he seemed to find most relaxing and rewarding was horse riding, where the local stables had started to specialise in lessons for children with autism and other issues. One week, Melanie's parents were unable to take Joel and asked her to drive him and wait while the class took place.
"At first I just sat at the side and watched what the teachers were doing," Melanie remembers. "Then about 10 minutes into the class, the leader said that one of the assistants hadn't shown up and asked if I would help. I was asked to walk a horse around the stable with a child on the horse, which I was happy to do, especially as the leader told me it was the smallest, oldest and slowest horse!"
Making the Most of an Opportunity
The next week, Melanie offered to take Joel to his class again and got talking to the leader. The leader explained that her assistant had been taken ill and was not expected to recover fully for a few weeks. "I offered to help and told her how much I had enjoyed the previous week and a little about my background as a classroom assistant. The leader offered me part-time work until the assistant recovered; since it was at weekends and could fit into my school job, I accepted."
When the original assistant was able to return to work, the leader of the horse riding stables asked Melanie if she would consider a full-time role, working with autistic children and horses to offer a new type of support that has been successful in the US. Melanie agreed and is now working towards a parent-support qualification while she works. "I have been able to use my classroom assistant experience in a new way," Melanie concluded, "My new career is really fulfilling and it's opened my eyes to a whole new way of supporting my brother and our parents."
More Inspiration
For more inspiring stories of how readers successfully changed their careers, visit our
Success Stories
section of this site.
You might also like...