How to Work in New Media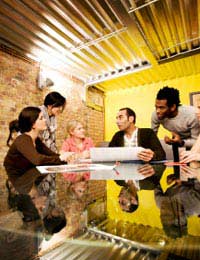 The buzzword of 'new media' can sound like a rather vague concept. Essentially, the term 'new media' encapsulates many forms of communication and creative type jobs, usually connected in some way with marketing and/or advertising.
The boom of the internet has seen 'new media' jobs increased too, as there are now so many ways to promote your product, communicate with your customers, and build your brand image.
What Is Working in New Media Like?
Working in new media is an exciting, creative, highly competitive experience, with lots of trendy Soho-types battling it out for the top jobs. This is not the type of career where you can slowly build your skills portfolio – you have to hit the ground running because there will quickly be someone else ready to snap up your job if you're not performing.
Most people working in new media are interested in music, fashion, films… anything that moves quickly and needs people to be 'in the know'. This means that new media can be seen as a rather shallow industry, even though it impacts on some many other industries through advertising and marketing.
Although there are ever-increasing numbers of new media-related degree courses available, many people that have achieved success in this industry did not gain a relevant qualification. You will find people with no degree at all that have simply worked their way up, gaining On-The-Job Training through unpaid internships to show their passion for the industry. There are also plenty of people with totally unrelated degrees, so do not assume that you need to retrain or Go Back To University in order to succeed in this field.
Where Can You Find New Media Jobs?
The internet also means that creative agencies and new media roles are cropping up in the most varied of locations – it can be part of a company's USP to be based somewhere unusual or remote – although the majority of new media jobs are still in London. Other UK cities with a good reputation for new media companies include Manchester, Brighton and Liverpool, although there are plenty of opportunities in most UK cities.
Unsurprisingly, one of the best places to find new media jobs is by Using Online Job Boards. All creative recruitment agencies have websites where you can search through their available positions, and many new media companies advertise their vacancies on their website. You can also contact new media companies directly to see if they are hiring, or if they take people on for internships or work experience.
Websites such as guardianjobs and monster.co.uk are good for creative roles. You can also look in the trade press, such as Marketing Week, Design Week and Brand Republic.
Types of New Media Jobs
The very nature of new media means that new job titles are rarely static, with lots of companies making up their own titles or words meaning different things in different companies.
As a rule, new media jobs are creative, with an advertising or marketing slant. Jobs such as digital communications, web developer and advertising account manager are popular, although don't limit yourself to using traditional keywords when searching on the internet as you'll miss the vast majority of exciting opportunities.
A Career in Advertising
Have you considered a career in advertising or brand management? To find out what these jobs entail and whether they could be right for you, read our article
A Career in Advertising & Brand Management
.
You might also like...