Textiles and Dressmaking Careers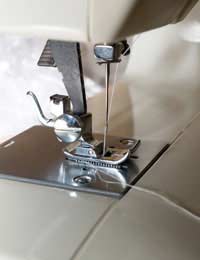 Fashion and textiles has long been regarded as a creative, innovative and exciting industry to work in. The UK has been irrevocably linked with fashion for decades, often setting trends and introducing new ideas into the fold.
Although dressmaking and textile skills have been a somewhat neglected art form in schools in recent years, there seems to be a re-emerging popularity for textile design for both young and old alike. Whether you're an old hand and consider yourself a bit of a seasoned professional, or are completely new to the idea of creating your own material visions, perhaps a career change to working with textiles and dressmaking could be open to you.
Where Would I Work?
Your place of employment would depend on the exact job role you want to fulfil, as well as whether you would want to
Work For Yourself
or for a design house. Obviously, as a freelance dressmaker or textile designer you would probably work from home or your own studio, with a proportion of your time spent travelling around to clients, fairs, shops or galleries marketing and promoting your designs. Your working hours would depend on how much business you can drum up.
Dressmakers commonly start up their own businesses, basing all operations from one shop, often working in specialist area such as bridal dresses. Fashion stylists and textile designers also have the opportunity to work with large high street chains or boutiques, however, you'll probably have to progress towards this role, rather than gaining entry straight away.
There is also the option of working in a design house as part of a team, involved in different aspects of design and production. Some textile designers and dressmakers will also Work With TV, Theatre Or Film Production Companies.
What Skills Do I Need?
If you're thinking about a career change to dressmaking or textile design, the likelihood is that you've already gained a variety of skills working with textiles and making your own pieces. These may include clothing accessories, soft furnishings or more artistic pieces such as wall hangings.
To support your application for a job, you'll need to have a CV, but also an impressive portfolio of your work. This can include any commissions or personal pieces you have made, as well as samples of your abilities, such as stitching, decorative work or dyeing techniques. The photographic records of your designs also need to be top quality, so it might be worth taking the time to learn some photographic techniques.
If you have no real experience of working in a more commercial environment with textiles, then if you can afford the time and expense, it might be worth your while enrolling on a course to gain understanding of the business, as well as developing your skills. Design houses are keen to employ designers that have a good degree as well as some prior experience.
Some degree courses may have fairly high entry requirements, so if you're lacking in experience you may have to undertake some training towards a recognised qualification to earn a place on a course. Typically, this can include an art and design foundation course, which can last for one year full-time, or two years part-time. Remember that a part-time course would enable you to continue employment during your studies.
If you would rather undertake a more practical route, there is also the option of working towards a City & Guilds qualification in Design and Craft. There are three levels to this qualification, all of which are recognised and respected as relevant qualifications. An additional Level 4 City & Guilds Higher Professional Diploma in Creative Crafts is also available. However, you may be in with a chance of landing a place on a degree course on the merits of your portfolio, if it's particularly outstanding.
Career Development
Working for yourself will involve aspects of business management, so it might be worth investing some time in learning about running a business. This can be done through an educational institution, as well as a more self-learning channel with books, helpful websites and using resources such as the government's Business Link programme.
Joining a recognised professional body will also help to boost your profile. There are many groups associated with the fashion and textiles, such as the Arts Council, Design Council, Craft Council, Embroiders Guild and Design Trust. Accreditation from these sources will only serve to benefit your employability factor, whether working freelance or applying for a job with a company.
Case Study
Find out how one reader followed her dream to set up her own dressmaking business from home in our article
I Turned My Dressmaking Passion Into A Career
.
You might also like...
I need work from home in dress designing
sunny
- 23-Dec-14 @ 7:35 PM
Would love to have a career involving knitting.Any ideas?
would love new tip in dress making
alunia
- 6-Jun-14 @ 11:43 AM
I have always loved shoes and would love a career in making them.Can you help point me in right direction.
Shaz
- 18-Oct-12 @ 1:32 PM
what is the best type of course to do in dressmaking with an accredited qualification that employers require? I am a mature student with no proper experience in dressmaking.
Clara
- 31-Jul-12 @ 1:50 AM
I did fashion design at uni and now have my own small business. I tend to do niche dresses for ladies of a certain age because I love to design figure flattering, elegant clothes. I make a comfortable living from it, but Iwould say to anyone starting out...do get some business knowledge too, it really helps. I made some daft mistakes along the way, that a bit more logic would have avoided.
CarriesCouture
- 22-May-12 @ 5:12 PM