Working in Museums, Galleries and Tourism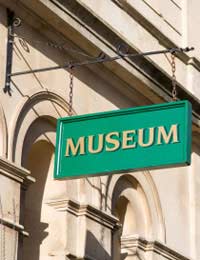 The UK has played host to a number of intellectual, literary, artistic and cultural revolutions throughout history, and within living memory. London, in particular, remains a modern artistic and cultural hotspot, drawing hundreds of thousands of tourists through its streets each year.
Museums, galleries, festivals theatres, palaces, historic architecture, pleasure gardens, musical landmarks, natural beauty spots, and archaeological wonders are all part and parcel of a thriving and diverse society in the UK, all bundled together into a relatively small set of countries.
If you've ever considered working in the Tourism Industry, or have a passion for art, history or science, you may well be suited to working within any one of the UK's cultural institutions or popular tourist destinations. We take a look at how you can carve out a career submersed in culture.
Museum Attendants and Tour Guides
London alone is home to over 240 museums, the most well known being the Natural History Museum, The Victoria and Albert Museum, the Science Museum, the Imperial War Museum, and the British Museum. As you would expect, these larger, more prestigious museums and those located within London's 'Museum Mile' tend to be the biggest employers for museum attendants and curators. Many smaller museums may be run by voluntary organisations, or rely heavily on public donations to operate.
Likewise, there is a plethora of cultural heritage sites dotted about the UK that employ tour guides. These commonly include stately homes and historical sites, run by organisations such as the National Trust.
Gaining Work Experience
If you've considered a career change to work within a museum or heritage centre, you may have a subject area that you're passionate about which corresponds to a particular museum's exhibits or is pertinent to the tourist site that you would like to work at. To gain entry to undertake paid work within a museum, you'll probably apply for a job as a museum attendant. Previous experience of working as at least a volunteer in a museum is preferred if you're applying for this role within a larger museum. Similarly, if you'd like to work as a tour guide, experience in a voluntary role would be ideal.
Museum attendants are basically responsible for looking after museum visitors and customers, dealing with enquiries and assisting museum curators. They also play a vital role in managing the security aspect of museum exhibits. In smaller museums, this role is often extended to include tasks such as administration, dispensing entry passes and manning the counter at a museum shop.
Essential Skills
Both museum attendants and tour guides should have strong communication skills, experience in customer service, specific qualifications are not usually required to be considered for the job at the most basic levels. Training is often done on the job, but a basic knowledge of the subject matter on show to the public is a rudimentary consideration. Also bear in mind that it is generally the case that the more prestigious and specialist the museum you intend to work for, the better qualified and knowledgeable you need to be within a specific subject area.
A career change to become a museum curator would be more involved and would probably be something you would have to work towards. This is because the job involves much more knowledge and responsibility in areas such as fundraising, organising exhibits, budget management, cataloguing, staff supervision, as well as overseeing restoration and conservation projects.
To apply for this sort of role, you would probably need a recognised qualification in a subject area such as Cultural Heritage studies. This is usually achieved through an in-house training scheme or working towards an NVQ certificate. If you are working in a specialist area, such as exhibits of archaeological artefacts or fossils, you'll probably also need at least pertinent degree-level qualification.
Art Gallery
In many ways, working in an art gallery as an assistant or curator echoes the job roles of museum attendant and curator, the difference obviously being the subject matter of the collections being managed. In some cases, as with fine art museums, museum and art curator jobs will commonly crossover.
Like museum curators, art curators will commonly be required to have studied extensively in a particular area pertinent to their gallery. A postgraduate degree is also usually a minimum requirement in order to be seriously considered for the more high-brow art galleries. In addition to this, like his museum counterpart, an art curator will also need to have gained experience in managing budgets, organising exhibits, administration and IT skills, have a considerable creative flair and negotiation skills, as well as excellent interpersonal skills. In some cases, multilingual skills may also be a requirement.
Because of the amount of experience and expertise often required to fulfil the role, a sudden career change to working as an art curator is nigh on impossible. If you are really serious about working within this sort of environment, the chances are that you'll have to start at the bottom and be prepared for a long, hard haul to work your way up. Working in smaller galleries as an assistant or in a voluntary capacity may help to increase your career development prospects.
The one attribute that ties all of these job roles together, however, is passion. As long as you have a genuine unshakable passion for your work, your chances of progressing and succeeding within any of these roles is more than a distinct possibility.
Financial Help When Making a Career Change
If money worries are holding you back from pursuing your dream job, you'll find some tip tips to cutting back your career change costs in
This Guide
.
You might also like...