Working in Editing and Publishing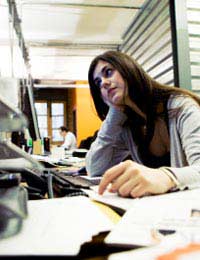 The UK has long been associated with the literary world, producing some of the greatest authors in history and living memory. Therefore it's no surprise that editing and publishing houses are aplenty in the UK, with the mainstay of the industry centred in and around the intellectual hotspots of Cambridge, Oxford and London.
Likewise, the consumer magazine industry is also in evidence, although in recent years the staffing at these publishing groups has reduced. However, online publishing and magazine ventures are steadily increasing.
So either way that you look at it, there is still very much a thriving publishing industry, with job opportunities and career change prospects very much in evidence. This article takes a look at the various job roles available in the publishing industry, and how to enter the workplace if you're considering a career change.
What Job Positions Are Out There?
Aside from the journalistic aspect of publishing, the range of job types available in this sector is quite varied. The range available to you does depend on the publishing medium that you'd rather work with, as well as your employment history.
Opportunities exist in both print and online all different levels, from junior positions, such as editorial assistants and junior sub editors, to more advanced roles such editors and publishing copywriters. The most senior positions relate to job roles such as web content managers, publishers, editorial directors and, of course, editors of large publications.
Because magazine publishers tend to have print and online publications, both types of work will be available in this context. A team of designers, writers, picture editors and researchers will all contribute to one publication. Book publishing – particularly fictional work – tends to be limited to print, so the opportunities are not quite so broad. However, periodical journals and educational publishing houses are always looking for ways to expand into new mediums, so don't overlook these lesser-known publishers.
Would I Be Considered?
Your suitability for a role will definitely depend on your experience, skills and qualifications. Obviously a senior editorial role will require some sort of journalistic or previous editorial experience, and a hefty portfolio of published work. However, if you're happy to change career and move into a more junior role, you can start by applying for an editorial assistant job. The requirements are that you have at the very least an A-Level English qualification, but ideally a degree or relevant qualification in either English, Journalism or Publishing. You'll also need to be extremely well-organised, commercially aware, a creative thinker and a competent computer user.
If you're moving into publishing a bit later on in life, it might help your employment prospects if you are able to demonstrate a passion for publishing. For graduates, working on a university or college publication is a common route, but for non-graduates or mature applicants, this might not always be viable. Working for voluntary or non-profit organisations that produce literature or magazines is a great way to boost your CV and portfolio.
Obviously, if you want to work in a more web-based role, you'll need to demonstrate your skills and understanding of online technologies. Running your own websites, or partaking in Voluntary Work for an online group is a great way to gain experience and knowledge.
If you have previously worked in a scientific or medical role, or are well-qualified in other academic area, you may find that there is a surprising number of opportunities to work for specialist publications. These include medical, technical, professional and educational books.
You should bear in mind that publishing groups tend to be located within London and university cities. Magazine groups in particular are confined to hotspots such as Teddington, Bath, Peterborough and London. In light of this, unless you intend to Freelance, you might have to move to avoid a monster commute each day.
How Do I Find Out About Vacancies?
Publishing houses and newspapers don't always advertise job vacancies locally or nationally, partly due to the fact that competition to work for these companies is consistently high. Online publications are usually a bit more forthcoming, and will advertise both in print and online. If you're adamant that a career change to publishing is for you, there a couple of steps that you can take in order to keep abreast of any possible vacancies.
Specialist publishing recruitment agencies will often be your first option, and many will have a website advertising recent vacancies. Vacancies may also be advertised on the company's own webpage, so if you have a particular publishing group, magazine or newspaper that you'd like to write for, you should keep checking their website for vacancies. Gorkana (www.gorkana.com/uk) is a great media database.
It's also worth checking out companies with marketing, promotional or publishing departments, as well as local government groups. They may present plenty of otherwise unknown opportunities to work in an editorial or web content management role.
Once you have your foot in the door, the career development opportunities are abundant, although the competition may still remain stiff. If you're less experienced, or don't have many Transferable Skills, you might have start afresh in a more junior role. However, eventually this would undoubtedly open the door to more senior positions that are better paid and hold more responsibility. So, if you're considering a career change, a drop in salary might be a temporary side effect of moving between industries.
Becoming a journalist
If you are passionate about writing or have a nose for a good story, you may be well suited to a career in journalism. Read our article
Writing And Journalism
to find out what steps you'll need to take to change careers.
You might also like...