Writing and Journalism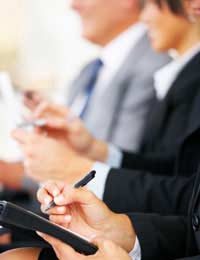 The craft of writing is one of the oldest professions in history, yet today it is still extremely relevant and important. Writing and journalism aren't just limited to print now – the Internet in particular has heralded an increase in the job opportunities available in this field, as well as the prospect of writing material for broadcast media, such as films, television and radio.
If you've previously dabbled in a spot of creative writing, or fancy yourself as the ultimate hard-nosed journalist always on the lookout for a good story, then perhaps a career in writing or journalism is for you.
Creative Writer
Creative writers can work in a number of areas and media, such as children's books and adult non-fiction, poetry and plays, as well as websites, newspapers and magazines. Writers are involved in many different aspects of producing a 'final' product, particularly when writing a book. If a commissioning editor has not submitted an idea, a writer will often be directly responsible for researching and developing ideas and themes for a particular piece. You may also have to conduct a lot of research yourself, revising and creating drafts and rewrites of your work prior to a final submission. Sometimes you will be required to submit two or three chapters of your book and a synopsis.
Qualifications, Training and Skills
There is no set qualification or training route to become a writer – if you have enough natural talent you may be lucky enough to launch straight into your career! However, some types of writing may require knowledge and specialism, as well as some previous experience.
For book publishing, and any broadcast writing (i.e. film, radio and television) you may need to find yourself an agent. This is because publishers receive copious submissions every day, and unless you have been commissioned, your submission may be disregarded unless it has been put forward through a special book or broadcast agent.
With other types of writing, such as magazine features, you may benefit from approaching a publisher or editor directly with an idea for a piece of work. Magazine features in particular will not require you to write the article in full, rather submit your idea. If it's good enough and what the editor is looking for, you could be commissioned to write the piece.
Although formal qualifications are not needed to become a successful writer, you could still develop your skills by attending a special writing course. These can range from full-blown degrees and postgraduate courses, to one day to workshops. Some courses can be residential, based in an educational institution, or completed remotely from home.
Journalist
There are almost 1,500 newspapers published in the UK at present. Newspaper journalism in particular is a tremendously competitive career where job places are limited, so if you have considered a career change to journalism in this print media, then you'd better be prepared to work extremely hard.
Employment Routes
Many newspaper journalists will start in a junior position at a smaller scale local or regional newspaper. With experience and talent, juniors can often progress into specialist areas for the newspaper. Experience will also open up more doors to working on a national publication, where scope for career development is significant.
Competition in magazine journalism is also stiff, despite the range of magazine titles and topical or specialist magazines currently in print, from glossy and consumer magazines, to business-to-business and 'trade' publications. Magazine journalists will often start working in-house at a lesser-known or trade publication to gain the relevant experience to progress to larger titles with a big subscription base. It is common to start work as an editorial assistant, fulfilling tasks such as article research, writing, and developing ideas for future articles.
Some magazine and newspaper journalists will also work as freelancers, approaching magazine or newspaper editors with ideas for feature articles. Although rejection is common, once an article is accepted it is somewhat easier to have subsequent articles published.
Many of the magazine and national newspaper publishing houses are located in London, or around the South East of England. Regional papers will be based more locally, and some magazine publishing houses can also be found in Bath, Teddington and Peterborough.
Qualifications and Skills
Although success as a journalist will not require a degree per se, many potential employers will prefer to take on candidates that have a relevant degree, such as English or Journalism. There are also opportunities for those who do not wish to complete a degree to undertake training courses with or accredited by the PPA (Periodical Publishing Organisation).
If you are severely lacking in experience – which counts for an awful lot in terms of landing a job – then you could, if time and Finance Allows, see if unpaid work experience is an option. This would definitely be of great benefit in terms of employability.
Whichever employment route you take, you must be persistent and stay motivated, as the road to gaining employment in this sector may be long and arduous, with rejection commonplace. Obviously excellent (and fast!) writing skills are essential, but confidence and the ability to communicate well and make contacts will also help in your efforts to change to a career in journalism.
Other Writing Opportunities
If you want to find out more about careers in
Editing And Publishing
and
Book Writing
, read our articles in
The Arts
category of this site.
You might also like...