Acting and Theatre Work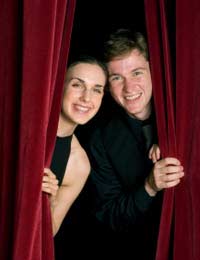 For many people, the thought – and ultimately the reality – of becoming a paid, professional actor is a dream come true. There are many opportunities to indulge a passion for acting and partake in the local 'AmDram' society, or form part of a fringe theatre act, with little or no financial gain.
Bright Lights
But for many, the ultimate goal is to land a role on Broadway, the West End, or even make it onto either the small or silver screen. And best of all, actors that come in all different shapes, sizes, ages and backgrounds all have a chance of finding work – there are so many different roles to fill, and an actor doesn't have to retire.
Besides acting roles, there are also other opportunities to work in theatre without taking to the stage. Whether working backstage as part of the wardrobe department, artistically on the set design, in administration and marketing roles, or in a technical capacity as part of the lighting or sound department, there is a multitude of positions available in theatre work for all different levels of skill and experience.
So if you've ever fancied treading the boards, and think that a career change to acting or theatre work is for you, then read on to see how your ideas translate into a reality.
The Reality
One major consideration you should make is that the actual paid work that is available for actors is tiny in proportion to the volume of actors in the UK. Many actors are 'resting' for up to 80% of their working lives. Much of your time can be spent looking for work and going through rigorous auditions, all of which don't pay a penny.
So unless you are lucky and talented enough to land regular work, your financial income can be sporadic and unreliable. If you decide to make the change to a career in acting, you may need to have another job to supplement your income while you're 'resting'. This could be in the form of a normal part-time job, or you could undertake an educational role. You should, however, be prepared to be flexible as acting jobs can arrive at any time for any duration of time.
If you manage to land yourself an acting job, be prepared for a flurry of hard work and activity, either during rehearsals or in preparation for a role. Conversely, if working on a film or television set, you should also prepare yourself for long periods of inactivity – you could be hanging around for up to 10 hours a day before you're needed, having arrived at 6 o'clock in the morning.
As far as working behind the scenes at a theatre, the work is far more reliable, as the theatre itself may employ you, rather than being at the mercy of the touring theatre company's programme schedule or success.
Qualifications
To become an actor, you don't necessarily have to have a plethora of qualifications, as a talent for acting can be innate. Theatre studies in particular looks at the theory behind specific modes and approaches to acting and performance, whereas enrolling in a performance school or college will have more of a vocational focus.
As far as employability goes, having a multitude of skills can boost the chances of finding work. Being competent with skills such as languages, accents and singing, as well as physical skills such as sports, dancing, martial arts or circus skills can add to your CV or profile and allow you to apply for more specialist roles. As working days and rehearsal schedules can be long and strenuous, you should also try to keep yourself as fit and healthy as possible. Also be prepared for criticism and being knocked-back – a certain degree of resilience and determination is therefore quite critical!
Specialist job positions – particularly the technical roles, such as light and sound engineering, or set design – will probably require a supporting qualification. Again, experience counts for a lot in this area, so it is also advisable to try to rack up as much practical experience as possible.
One option is to start working with local Amateur Dramatic groups in your spare time, while gaining a technical qualification through a college course or apprenticeship scheme. If you have an aptitude in this area, you may also be lucky enough to be taken on within a company in a more junior position, with the opportunity to learn as you work.
A career change to a marketing or administrative role within a theatre company can be relatively easy if you have any relevant Transferable Experience and Skills. Of course, a passion for theatre is a bonus, so if you can support this on your CV, then all the better.
Experience & Networking
The hardest thing to achieve when changing career to become an actor is gaining enough experience. Experience and
Networking
will open up many doors to more work opportunities. Working as an extra through an agency is an option, as it allows for insight into the workings of the industry, but is not necessarily a guaranteed route to employment or recognition as an actor.
Signing up with an agency will increase your chances of getting auditions, especially with regard to television and film work. However, you should be aware that an agency will take around a 10-25% commission fee directly from your earnings.
Be Prepared
All in all, working as an actor can be quite a rollercoaster ride – you may have long periods of inactivity followed by a flurry of work. The nature of the business means that you should try to have a back-up plan in case of any quiet resting periods. A career change to this profession is possible, but you should be prepared for a lot of hard work, a possibly a lack of financial security and career development. Though for some, this is all just part and parcel of doing a job that they love.
Want to be a Musician?
Do you have aspirations to become a professional musician? Find out what steps you need to take to achieve your dreams in our feature
How To Become A Session Musician
.
You might also like...
Hi i am very intrested in theatre work, and was wondering if you could tell me moreabout it? I have done Performing Arts at Stockport College and enjoyed every minute of it, i wouls however like to conyinue it this line of work as i find it fasanating. Yours Sincerly V.Chambers
cheekyviv73
- 21-May-12 @ 11:12 AM
HI I am 45 and attending a p/t Acting programme course at the Rose Bruford College in Sidcup ,Kent. The cost is £435 a term. I have managed to cover the cost of the first 3 terms, however I am not in a postion to borrow for the remaining 2 terms. Can you suggest any grants that I may be eligeble for. As a further note I am married with 3 children and living in rented accomadation.Also I am in full time employment and served 20 years as a Adult Instructor in the Army Cadet Force ( Voluntary Youth Organization).
Dazza
- 8-Feb-12 @ 4:12 PM
to whom it may concern i am an 18 year old female who is actyivly seeking work, i am very intrested in gaining work that is in this industry i have perfroming arts qulifications i would really appreciate some guidance on how i can obtain a sucessful role in this industry if your could please email some information on how to get on the right road it would be very much appricatited.
leah
- 6-Feb-12 @ 1:21 PM
I am a student in suffolk who is very determind to become an actor in theatres once I have finished all of my GCSEs and my creative and media diploma. Do you have any informntion or any help that you can give me! Thank you
shannoncatchpole
- 9-May-11 @ 9:35 AM