Working in TV and Film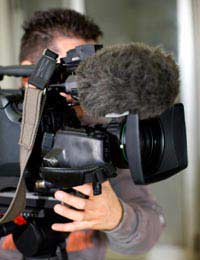 Although nowhere near as big as the colossal giant that is the American TV and film business, the UK television and film industry is still well respected and acclaimed. Although actors usually receive the most limelight and recognition, behind each television or film production there is a whole team of people responsible for the creation, content and broadcasting of each project.
For this reason, there are a multitude of opportunities to develop a career in British film and TV. The whole process requires a vast team of people that have a plethora of skills and experience. Typical jobs within the TV and film industry include:
Pre-Production – creative, organisational and administrative roles that fall to people such as production assistants and managers, screenwriters, prop makers, set designers and TV or film producers.
Technical – the specialist roles required to get the films into the general public's homes and cinema screens. These sorts of jobs include camera operators, stage managers, live or studio sound engineers, as well as lighting technicians.
Post-Production – this includes sound technicians, post-production assistants, editors, and those involved in special effects.
This is by no means an exhaustive list. For instance, the job roles in a team assembled to put out a thrice-daily news bulletin would vary in comparison to a the team that produces a massive blockbuster film. Budgets, time-frames and even genre can all be factors. Working as a director or TV presenter is a whole different ball game, involving a different employment route and career prospects.
How Do I Find a Way In?
If you haven't started out in the business, finding your way into the TV and film industry could be a little trickier. It's also worth knowing exactly what capacity you'd like to work in before you make the career change leap.
Technical Roles
The technical roles will probably require supporting professional qualifications, as well as experience. For instance, camera operators may need a qualification in media techniques, media production or moving image media. Similarly a sound technician may benefit from a qualification in media production or sound and music technology, with a sound understanding of electronics and physics.
University And College Courses
may also provide
Networking
and
Work Experience
prospects.
Experience in these technical fields is difficult to come by, as everybody wants to hire someone with experience! However, working with local theatre or AmDram groups is always a good starting option. Technical operatives tend to work on a contractual basis as Freelancers, so it is vitally important that you get yourself known. Adding yourself to a specialist directory, contacting companies directly and networking are just some of the ways to boost your profile.
Work in Production
If you wish to work more in the development and production stages of a TV or film project, the process involved in a viable career change is a little different due to the different skill set required.
For those with little or no experience, the most likely job on offer would be the role of a runner, junior assistant, or if you're lucky, a production assistant. The range of skills needed to undertake this job can be applied from other professions and job roles, but competition is fierce. For this reason, many younger school leavers or graduates with little or no financial dependency are often able to work long hours for small salaries, just to get a foot in the door. However, an outstanding, motivated, determined and enthusiastic individual with potential can always jump to the front of the queue!
Production assistants tend to work in more of an organisational and administrative capacity, carrying out tasks such as organising travel and accommodation, handling call sheets, dealing with copyright issues and financial concerns, such as expenses, and handling and distributing scripts. The more senior the role, such as production co-ordinator or production manager, the more impact you'll have on the direction and production of a project.
Again, the types of jobs in this area tend to be taken on a contractual basis, with many individuals working either with a production group or as a freelancer. Bear in mind that you would often be taken wherever the job goes, so travelling or relocation may be frequent.
Salary Expectations
Because a lot of training and experience can be gained through placements or junior roles, gaining entry into this area as a career change can involve a massive cut in salary. A relevant qualification will certainly add to your employability prospects, with the subject areas of media techniques and media production looked upon favourably. Film and Television Freelance Training (FT2) Production First is a vocational programme that is recognised by the industry, but again competition for a place on this scheme is intense.
However, if you are determined enough, and have a good work ethic, there's no doubt that you'll be able to get yourself into the business. Once you're inside the door, the opportunity to move and grow within this industry is quite impressive.
Further Reading
You may be interested to learn about the types of roles that are available in the theatre. Find out more in our article
Acting And Theatre Work
.
You might also like...
Hi , I have a keen interest in working in television, I know one has to start from the bottom and work their way up , but that is the way it should be, I am 51 years old and currently have level 1&2 English and level 1&2 Maths and will be doing my GCSEs in september. I currently work part time as a school crossing patrol, but I am ambitious and not afraid to rise to the challenge in order to seek a career in t.v. , please let me know if my credentials are suitable, and what I need to gain a career in this exciting job. yours sincerely Graham Marles.
Rooster
- 15-Jul-12 @ 8:45 PM