How to Become a Graphic Designer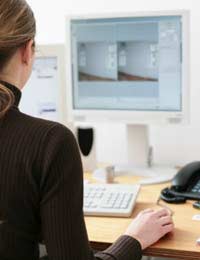 Working as a graphic designer is an exciting, creative and well-paid career when you are successful. It can be terribly frustrating and lonely, however, when you lose a pitch or are working long hours by yourself.
In order to be a successful graphic designer, you need to be passionate about your creativity and highly skilled. It's a very competitive industry, so it's not a career to just 'have a go' at; you must be determined to succeed because everyone in the industry is talented, creative and keen to achieve their goals.
Types of Jobs Available
As an employed graphic designer, you can work in-house for a design agency, advertising agency or large corporation with a design department. Many graphic designers
Choose To Go Freelance
, especially in London or other cities with a lot of design opportunities. Some also choose to be self-employed with their own company, specialising in particular areas of graphic design (such as corporate branding or advertising) or joining forces with other designers to offer a more rounded service.
There are graphic design roles that encompass a range of media, or those which specialise in a certain area, such as print media, Online Digital Design or direct marketing. The terms 'above the line', 'below the line' and 'through the line' are often used in recruitment for graphic designers and relate to mass media (TV adverting for example), non-media communication (product branding) or a mixture of both respectively.
Salary Expectations
The salary earned by graphic designers can vary enormously. Starting out as a freelance or self-employed graphic designer can be a long, up-hill struggle to gain clients and win pitches, so there is no upper or lower limit to your earning potential. As an employed graphic designer, you can expect to earn a starting salary of around £20,000 in a design agency and slightly more in a corporation, with a designer with five years experience earning around £30,000. A
Trusted Freelancer
can charge around £25-£40 per hour, depending on experience.
Skills Required
The skills required to become a graphic designer go way beyond good drawing skills and creativity. It must be assumed that you have excellent ideas, strong design skills and the ability to draw (on paper and on the computer). Above and beyond creative skills, you need to be able to pitch your ideas eloquently, represent your company at client meetings, be able to work in a team (especially as a successful freelancer) and be totally professional. If you are self-employed, you must be confident enough to network, follow up leads and win business.
There is a vast array of computer packages used by graphic designers and it is often the most specialised that can help set you apart from the competition. It is generally expected that a graphic designer will know at least some of the most common packages, such as Illustrator, Photoshop, InDesign and Dreamweaver, with many designers working on a Mac as well as a PC, allowing them to integrate with clients' demands and/or a range of studios.
A Career as Graphic Artist
If you have a passion and talent for
Art And Illustration
, you could turn it into a successful career. Find out more in our article in
The Arts Category
of this site.
You might also like...
Hi SHUG. You can do a degree in this area, (in some universities it's referred to as creative technology), but you could also choose a straight graphic design degree and opt to major in film. Getting work is more a process of getting a foot in the door, so you may have to do voluntary work to gain experience. Take a look here:
Working in TV and Film
ACareerChange
- 23-May-11 @ 11:13 AM
What qualifications do you need to be a graphic designer for films?
SHUG
- 20-May-11 @ 4:18 PM