How to Become An Artist or Illustrator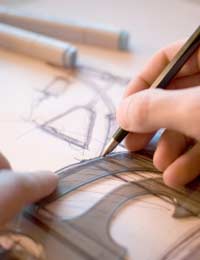 Many people undertake some sort of artistic endeavour as a hobby, sometimes earning a small income on the side. There are also many people that at some point in their lives wish to pursue their passion for art or illustration more seriously, and carve out a viable Freelance Career.
If this sounds just like you, then perhaps it's worth looking into the practicalities of launching a career as an artist or illustrator. After all, what can be better than your work fulfilling both your passion in life and paying the bills?
Working as an Illustrator
First, let's look at the career opportunities for illustrators as, in some cases, illustration work can be somewhat more commercial and conventional than working as an artist. Your illustrative style, experience and portfolio can also affect the type of work you opt for.
Basically, anywhere that prints or provides illustrations can be a likely source of income. From greeting cards and packaging to books and magazines, there is a wealth of prospects as far as employment sources are concerned.
Some companies that require ongoing illustration work will employ one or more illustrators in-house. Typically these could be companies that require specialist illustrations, like technical drawings and diagrams, or book jacket illustrations. Take into consideration that some book publishers may have a 'house style'. In some cases, a candidate with a qualification in illustration or design is preferred. This may be due to the fact that as part of their course content, many illustration courses will teach students to work in a Variety Of Media, and will also offer training on the more business-orientated aspect of working as an illustrator.
Many companies and agencies will source work through freelancers, and this is the most common employment route for many illustrators. If you intend to carry on working part-time while establishing a change in career as an illustrator, freelancing is a great way to balance the changeover between careers. Bear in mind that unless you are employed via an agent (who can take up to a 40% fee), if you intend to freelance as an illustrator you will also be required to source and market your own work, as well as undertake the more administrative roles of running a business.
This in itself includes working with clients to understand and develop a brief, working as part of a bigger team that includes authors and other designers and editors, and understanding deadlines and budgets. Of course these skills can also be transferred from a plethora of other professions, and are an important feature of any prospective illustrator's CV.
Working as an Artist
'Artist' is a blanket term for creative people who work in a variety of media, from fine artists who work with oils and watercolours, to sculptors, conceptual artists, installation artists and printmakers. These days, art has become as diverse in approach and genre as music, making it difficult to speculate on possible income, employment routes and career development prospects.
Success in this field can depend on your skill, aptitude, location and the time you can take to dedicate towards the job. Although not necessary, a degree can help with personal development as well as the more commercial considerations, such as working with a client's brief. You may choose to work on a freelance basis, approaching galleries, individuals, shops, fairs or exhibitions at will, or you may be lucky enough to receive commissions for work. Either way, life working as an artist is in many ways unconventional. Although this can be exciting and refreshing, from a financial stability point of view, this sort of work can also be erratic and uncertain. The practicality of changing career to work full-time as an artist should be measured on an individual's circumstances, as 'success' can be dependent on so many factors.
If you are not willing to sacrifice a steady income, perhaps it's best to test the water by submitting your work to a shop, gallery or exhibition. You can often measure interest and reaction to your work in this way, giving you an idea of how viable a career change could be. Perhaps setting up a website could also help you to broaden your potential audience. Remember that as an artist, Networking is key. Local Art Networks and the Arts Council can also help in this regard. You could also sign up with an agent, but you should first consider that an agent can take a hefty proportion of your fees.
In many ways working as an artist or illustrator is a bit of a trade-off between doing something that you love and financial security. As with many creative careers, success is dependent on your determination, skill, knowing the right people and sometimes, sheer good luck. If you have little or no experience of working as an artist or illustrator, perhaps it's best to ease yourself into a career change. Part-time Work will allow you to stay employable should anything go amiss, as well as allowing you to earn a smaller but steady income.
Becoming a Graphic Designer
For advice and information on pursing a career as a graphic designer, read our article
How To Become A Graphic Designer
.
You might also like...
@Yogi. Unfortunately we are not consultants, this information is provided for general career advice. For a one to one consultation try "Career counsellor" and your location on a search engine.
ACareerChange
- 11-Mar-15 @ 10:05 AM
My daughter graduated 2 years ago with a First in Illustration from Norwich University College of Arts. She is currently working at the British Museumbut her contract ends in the middle of April 2015. She is having tremendous difficultly in finding any permanent job related to her artistic qualification. I feel she could benefit from a guidance session with one of your expects to open her mind to a career path suited to her skills but which she has not yet considered. Would you have a counsellor in such a role? What would be the cost for a "one off" consultation?
Yogi
- 7-Mar-15 @ 10:23 PM
I thank you so much for that information, you just opened my eyes so in-depth.