A Career in Advertising & Brand Management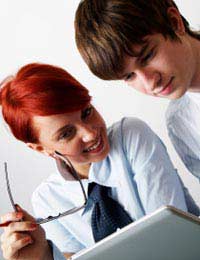 Advertising and brand awareness has become a large part of our modern lifestyle. As spending power has increased, together with the power of the Internet, consumerism has been the driving force behind a steadily increasing economy. This previously led to a boom in the advertising, media and design sector, opening up an abundance of job opportunities for those Seeking A Career Change.
Recently the economy boom has levelled out, and with spending power in somewhat of a retreat, some advertising and brand management agencies are working with smaller staff structures, seeking out the most talented job candidates. However, it's worth noting that Internet advertising continues to grow in strength. So it's still a good time to change career and get a foothold in the industry, although the competition for jobs in the traditional advertising sector is now a little stiffer than in previous years.
What's on Offer?
The phrase advertising is a bit of a generic term for a whole industry sector. Within this industry there are many different opportunities to work in various capacities. The most common roles associated with advertising are 'advertising executives' – these are the people that work as a sort of intermediary between client and the advertising agency as a whole, usually managing all aspects of a client's brand development and advertising. Similarly, an advertising account manager oversees the management of several accounts, supervising a number of account executives.
There are also opportunities to work as an advertising copywriter – advertising copywriters are also referred to as 'creatives', and in short are responsible for coming up with the creative written content behind an advertising campaign, as well as taking part in brainstorming and brand development activities.
Through career development and with enough experience and aptitude, there's always the chance to work within a senior role as an art director or creative director in an advertising agency. However, bear in mind that the larger more successful advertising agencies only recruit the best of the best, and competition for jobs at these mostly London-based agencies is fierce.
Making the Change
In advertising agencies, there is quite a lot of competition for job vacancies, not least due to the number of new advertising,
Media
, English and PR graduates that are churned out each year. So if you are thinking about changing career to advertising or brand management, you'll need to make sure that you stand out from the crowd.
It is crucial that you have an innate understanding of at least one aspect of the industry, be it commercial awareness, brand identity and design, or promotional campaigning. You'll also need to be particularly adept at organising, time management and administrating, as well as quite an outgoing and motivational character. Large workloads can make the job unrelenting and stressful, so the ability to work under pressure is key.
On the creative artworking and copywriting side of things, unless you're prepared to work in a junior role for a less-than-modest salary, you'll need to have a good portfolio of work and ideally a degree-level qualification. Preferably the degree will support the role that you're applying for, with advertising, design, marketing or promotions qualifications all being relevant.
In some cases, graduate training schemes are available. However, for those mature applicants seeking a career change a little later on in life, Transferable Skills and relevant experience of handling big-name clients or executive accounts in any commercial capacity is seen as a desired attribute. Knowledge and commercial awareness of the industry is a must, as well as keeping abreast of industry developments.
Remember that in advertising, experience counts for a lot. So if you've previously worked with big-name companies in any capacity, or have a portfolio of clearly innovative and forward-thinking design and advertising work, then the chances are that you'll be able to gain a foothold on the career ladder.
Other Career Ideas
For inspiration and advice on finding other creative careers in the media and arts industry, go to our
Arts Category
of this site.
You might also like...