Asking for Work-Based Training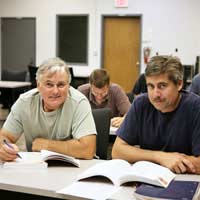 Some companies are much better than others at providing work based training for their employees. If you feel that you need some, you need to approach your manager about it. Make sure you know exactly what it is that you want and why and plan how and when you will ask for it. Training is important to your Career Development and, unless you ask to receive it, you might never get any.
Knowing What You Want
There is no point asking your boss for work-based training if you are not sure about what you need. Consider the
Skills
that you need to develop and which are the most crucial. Before you ask about it find out what all the options are:
Does your company already run a course?
Is there a colleague or department that could show you what to do?
Should there be a new training plan in place?
Once you have considered your options you will be in a better position to ask for what you want.
How To Ask For It
As long as you have done your research then you will be in a good position to approach your boss about training. The more details and reasons that you can offer, the more chance you have of them saying yes. Explain exactly what skills you are trying to improve and why. Be able to show how you have already tried to develop them and why work-based training is needed. Present them with a few different options and be able to discuss the pros and cons of each one.
When To Ask
There is no point approaching you boss if budgets are tight, they are in a bad mood, or you have turned up late to work. You need to plan the time when you will have the most chance of success. Ideally, find a time when you have recently impressed them and they are happy and relaxed. Make a specific appointment and make sure you have ample time. Also, consider what else is in the pipeline – if there is going to be a big party or office overhaul, they may not have the budget for work-based training.
Showing The Return
If your boss agrees to work-based training, you need to prove that it was worth it.
Report
back on what you did and what you learnt. Be able to show ongoing progress and keep your boss updated. This way, if you ever want any training in the future, you will be able use your past experience as an example of why it is a good idea.
Work-based training is crucial to your career development and you should be prepared to approach your boss about it. Do your research, know what you want and what your options are. Then pick a good time to talk to your boss and present then with your reasons and ideas. Once you have completed your training, report back on it and prove your progress so it will be easier to convince them next time.
How To Ask For A Pay Rise
It's true that if you don't ask, you won't get! Find out when and how is the best way to approach your boss when asking for that all-important
Pay Rise
.
You might also like...
I would like to become insurance Broker many thanks
@jackie. We have an article on becoming an insurance broker
here
.
ACareerChange
- 25-Mar-15 @ 2:04 PM
I would like to become an insurance broker. I need more information. Thank you
jackie
- 23-Mar-15 @ 8:22 AM
@Das - Good for you. Here is a link to
their application page
if you haven't already found it.
ACareerChange
- 9-Jul-14 @ 11:59 AM
I am applying for the Individual Membership of the British Insurance Law Association, for the simple reason is that I would like to become an Insurance Broker. 07719769409