What is Too Much Information in the Workplace?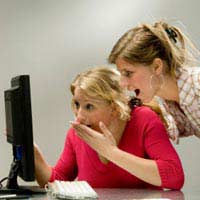 It can be all too easy to think that just because you spend more time with your colleagues than practically anyone else in your life, it's fine to share absolutely everything with them. While it may be true that you have a couple of great friends in the workplace that you could trust with your deepest, darkest secrets, that does not mean that work is the best location for sharing them.
Even if you're not sharing details of your drunken exploits or medical issues with your boss, choosing instead to email your closest colleague, the workplace has a funny habit of making sure your boss and probably your boss's boss know exactly what you're up to. In these recessionary times, being indiscrete at work is not a good plan as it does not reflect well on the company, and certainly doesn't make you look like a professional that takes their job seriously.
Personal Information
There is nothing wrong with telling colleagues carefully chosen details about your family, but it's not professional to come into work every morning with the opening gambit of "…you'll never guess the latest!"
As a rule of thumb, less is more. There may be certain people in your office that delight in sharing everything about their personal lives, but the boss will not be impressed and it will not help their case if there are Redundancies coming up.
Emails & Phone Calls
Even if you're not sharing your crazy Saturday night exploits with your colleagues on Monday morning, you'll still get a black mark if you spend too long emailing, calling or texting your friends. There is likely to be a personal email policy in your employee handbook and, even if there isn't, people have been known to be sacked for gross misconduct if company emails are used inappropriately. If you must send an email, at least make sure you do it from a hotmail or gmail type generic account, rather than your company address.
With regards to sending and receiving texts, there can be very few noises that are less irritating that the 'beep beep' of an incoming text or message being typed. Again, if you must, at least have your phone on silent, but it's best to wait until lunchtime, or when you're making a cup of coffee. If you receive a text when you're in a meeting (even if your phone is on silent and it vibrates in your bag or pocket) do not answer it – certainly don't read it and then giggle or smirk. Ignore it or turn it off!
Medical Information
Sharing medical information in the workplace can be a minefield because you may need your boss to be aware of a medical situation, but not want to go into too much detail. Some people seem to enjoy going into the goriest detail of their illnesses and medical procedures but again, this is best kept out of the workplace.
If you simply have to tell your boss about a medical issue because you have a doctor's appointment or need treatment, then ask to have a private meeting with them and explain the situation. Do not give unnecessary details, and bring a doctor's note if appropriate. There is no reason to share this information with your colleagues unless you need their support or understanding. But even then, you must keep professional wherever possible. If you work for a large company, it may be better to go through your HR department for serious illness issues, or if you require regular time off, but for day-to-day medical ailments, keep it to yourself as much as possible.
Office Gossip
Gossiping in the workplace is commonplace, but for anyone wishing to progress in their career, the best advice is to not get involved. Find out more in our article
Dealing With Office Gossip
.
You might also like...