Dealing with Conflict in the Office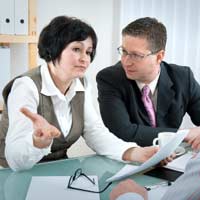 It would be nice if you always got on brilliantly with all your work colleagues but throughout your career you will encounter conflict in the office. The way that you handle this conflict could affect your career development as you want to prove that you can act professionally. To do this you need to deal with any disagreements directly and make sure you do not get involved in Office Gossip or talk behind people's backs. Managing conflict is a skill but one that can be learnt and improved upon.
Don't Gossip
When you have problems with people during your career it is easy to get involved in office gossip. This can make you feel better and help you bond with other colleagues but ultimately won't solve the problem. During your
Career Development
you need to show that you can deal with conflict in a mature and professional way and talking behind other people's backs will only make you look bad.
Talk About it
Although it is bad to gossip, you must also not bottle your feelings up. The best plan for managing conflict is to talk openly to the people involved. Try to explain what the issue is and offer practical ways in which it could be solved. Involve all parties in the discussion and allow them to their views. Ignoring problems will only lead to resentment and have a negative effect on your career.
Stay Calm
When you have a conflict during your career it can be easy to get upset and angry about it, but these emotions will not fix the problem. You need to think realistically and practically about how you are going to solve the conflict. Write down all your thoughts so that you can process them and come up with a way of expressing how you are feeling calmly and clearly. When you are addressing the person that you have an issue with, take deep breaths, never use bad language, and try to keep your emotions under control.
Involve A Manager
If you are unable to resolve the conflict directly with the people involved, you may have to speak to a manager about the problem. You do not want to adversely affect your career by letting a conflict get out of control. Calmly tell your manager what the problem is and how you think it could be resolved. Don't be afraid of involving managers – that is what they are there for.
During your career you will find there are many times when you will yourself managing conflict. In any office, people will have differing opinions, personality clashes and will not always get on. The best way to deal with conflict is to stay calm, talk directly to the people involved and think about it in advance. Don't use bad language, raise your voice or become too confrontational. If you find that you can't resolve it alone, don't let the situation get out of control but talk to a manager who can help.
Managing Stress at Work
If conflict is causing you stress in the workplace, you need to know how to deal with it before it starts to impact on your life. Read our article
How To Handle Stress At Work
for advice and guidance.
You might also like...