Working With Family or Friends: Nightmare or Dream?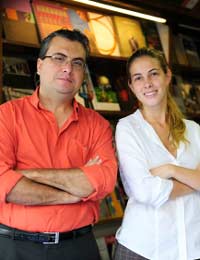 Being in business with your friends or family might sound ideal, but what is it like in practice? How often do businesses like this succeed, and how can you improve their chances? Are the potential gains worth the risk of damaging important relationships?
Going into business is always a challenge but many people working with family and friends fail to see the size of that challenge, experts say. They are more likely to start up without the proper safeguards and the expectation that things will always be fun can make it tough facing up to the reality of hard work. That said, businesses like this often manage to carry on in a spirit of optimism that helps them overcome their difficulties.
How Common is Working with Friends or Family?
There are more family businesses out there than you might think. About 65% of Britain's private sector companies are family owned and together they account for a remarkable 45% of the country's GDP. What's more, they're not just small scale enterprises. Some of the biggest companies in the world - like Ikea, Benetton, WalMart, Lego and L'Oreal - are still run by the families that started them.
Measuring the number of firms started by friends is harder to do. Many entrepreneurs meet through working for the same employer or taking courses together; those who know each other purely socially are thought to be a smaller proportion. What business support agencies are sure of, however, is that businesses started by friends face a significantly higher risk of failure.
Polly's Story
Polly Conroy, from Herefordshire, worked for a bank for 23 years before deciding she was tired of the atmosphere and taking voluntary redundancy. She used the money to go into business with her partner, buying a village shop and post office. Both of them wanted to work for themselves and looked forward to the prospect of spending more time together.
The first few months were hard work. The shop was open from 7am to 10pm and because they lived upstairs they couldn't really get away from it - even during time off, staff would know when they were in and go to get them if a problem arose. Initially Polly enjoyed the problem-solving side of it but she soon grew frustrated by the fact problems never stayed solved.
Eventually, the pressure became too much. The novelty wore off, Polly became depressed and her partner grew fed up as she felt she wasn't pulling her weight. Personal difficulties added to the struggle and the business had to go. Despite this, Polly feels it was a positive learning experience. The main thing she would recommend is setting clear boundaries and being more focused on the work.
Does Your Dream Idea Appeal to Your Kids?
Many people dream of setting up a business they can pass on to their children, but how common is this? Your idea of a dream occupation might not have the same appeal to your kids. In fact:
Only 30% of family businesses are successfully passed on to children
12% make it into the third generation
Only 3% survive beyond the third generation
That doesn't mean that family businesses are not worthwhile. Apart from the satisfaction family members often find in working together, they give children a good start in life, making them more employable no matter what career path they decide to take.
Sara's Story
Sara Thomas, from Glasgow, grew up with parents who were running a successful family business manufacturing PTFE lab equipment. She and her brothers and her sister in law were all employed within in at one point or another. She feels that it kept them very close as a family but the downside was that it magnified tensions.
"Working and living together were not easy things to combine", Sara says. "Even with clear communication and boundary setting it was hard to keep them properly separate and I couldn't just leave the job at the office". On the plus side, however, she gained a work ethic and an understanding of business and management that she might not otherwise have had. She is now a professional fundraiser.
Key Points to Make the Business Work:
What makes the difference between a successful, enjoyable business venture with family or friends and one that goes wrong? An analysis of failures shows us that the key is in how they start out. Though it might sound counter-intuitive, the more rules you lay down at outset, the more likely you are to find running your business a pleasant experience.
1. Make a Formal Agreement
Business support organisations recommend that every new business start out with a shareholder's agreement. Working with friends or relatives doesn't mean you should assume you can do things like this informally. A formal agreement means that disputes can be resolved much more neatly, with a reduced risk of ongoing arguments. Similarly, careful minutes of meetings mean you're less likely to fall out later over who said what.
2. Understand Each Others' Capabilities
To ensure that a business like this keeps working, it's vital to have a proper understanding of one another's skills and capabilities. This makes it essential to be honest and to be able to take criticism. There will be times when you can't afford to spare you loved ones' feelings. If somebody isn't doing their bit, it's better to talk about it sooner than later.
3. Develop Communication Procedures
Preparing to go into business with friends isn't like going through a job interview. You shouldn't be trying to present yourself at your best, but to work out how your new colleagues will cope when you're at your worst - and how you'll cope with them. It's important to develop good communication at the start and keep it going.
4. Create a Clear Hierarchical Structure
Finally, you'll need to develop a clear decision-making hierarchy. You may not find it easy to take orders from a friend, and it can be hard to keep a family relationship feeling good when you're having to tell someone what to do, but the alternative - letting things go wrong because you don't know who's responsible for what - is worse. In time, you'll settle into it. With a well designed business model and good communication, working alongside friends or family really can be a dream come true.
You might also like...