Handling Office Politics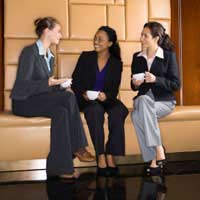 Office politics is something that everybody who works in an office with have to deal with at some point in their career. People are vying for attention, promotion and popularity, and when all these personalities and desires mix together it can become a bit of a minefield. The best way to navigate the politics is to stay on the sidelines and try not to become too embroiled in it. If you think there is unfair treatment, it may be necessary to speak up but try not to get involved in the everyday politics.
Office Gossip
Gossip
is rife in any office and it is easy to get sucked in. It can be a fun way to pass the time, make you feel better about your own situation, and help you bond with colleagues. However, getting to caught up in gossiping will not be good for your
Career Development
as it makes you look unprofessional and more interested in talking about others than focusing on your own work. If people are gossiping around you, don't get involved. Instead, walk away to disassociate yourself with them.
Friendships And Relationships
Over the course of your career you will probably spend much more time with your work colleagues than you will with your loved ones. Because of this, close friendships and even romantic relationships can develop. You need to be careful about mixing work and play, though, and not sharing too much of your personal life with your work friends. You must also be wary about striking up a relationship with someone from the office, as many companies frown on it.
Promotions And Preferential Treatment
One bad part of office politics is when people are unfairly promoted or given preferential treatment because they have made friends with the bosses. This can be difficult to deal with as people are not being judged by their talent but by their ability to make friends. In these situations it is important to speak up and talk to manager about the situation. Try to deal with it professionally and talk about it in the office.
Dealing With Disputes
If you have a dispute with someone in the office, you have to be careful about how you deal with it. The best way to handle the situation is to talk to the person directly and privately about the matter. As soon as you tell other people or complain about it, you will get caught up in the office politics and everyone will want to have their say. Calmly and maturely approach the person and explain what the problem is and offer ways to solve it.
Office politics is never simple but you need to be careful not to become too caught up in it. Deal with any disputes professionally and, if you think someone is being given unfair preferential treatment, take the proper measures to complain about it.
Sharing Too Much At Work?
As you spend more time with your colleagues than your family, it's natural to what to share some personal information with them. But you don't want too many people knowing everything about your private life. Find out what you should and shouldn't share in the office in our article
What Is Too Much Information In The Workplace?
.
You might also like...