Facebook Friends with Boss: Will it Affect Your Job?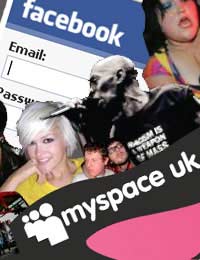 So your boss has sent you a request to become your Facebook friend? How on earth do you deal with that! Facebook is part of a new phenomenon of Social Networking Sites that is taking the world by storm. It is a great way to keep in touch with your friends and share photos, stories and personal details. However, while you may want your close mates to see your drunken snaps, you probably wouldn't show them to your boss. Crossing the line between your professional persona and your social life can be an awkward step.
What Is Facebook?
Facebook is a site that allows you to create a profile showing details about you and your life. You can upload pictures, videos and updates about your status, interests and opinions. You can choose who can see these details by accepting them as your friend, and then you can share details of your everyday lives. People are wising up to certain security functions that mean strangers can't see your details. However, once you are friends with someone, they can access your profile at anytime without you knowing.
Downsides Of Accepting
The person that you are at work is probably not exactly the same as the person that your friends know. You will project a professional front in the office and let your hair down in your social life. Although you may share some details about your personal life with work colleagues and probably socialise with them occasionally, it is unlikely that you tell them all your juicy secrets. Becoming friends with your boss is stepping over a line that is then difficult to erase.
How To Say No
Deciding to reject a Facebook friend request from your boss is not an easy thing to do. You don't want to offend them or get on the bad side of them. The best way to deal with the situation is to be upfront and honest about. Communicate in person rather than via the internet and explain your reasons. Tell them something like, "my Facebook is a place where I can switch off and relax and I don't feel comfortable mixing my work and social life." Hopefully they will be understanding about your preferences.
Managing Your Social And Work Lives
The Facebook friend dilemma is a modern incarnation of an age old problem – should you mix your work and social lives? When you spend so long with your colleagues you are going to become friendly and probably have a few drinks after work. However, sharing too much of your social life with them can make you appear less professional and you need to consider how it could affect your reputation and progression at work.
Deciding whether to become Facebook friends with your boss is a common and tricky dilemma. While it is good to be friendly with them, sharing your personal life with them can be a step too far. Approach the situation openly and honestly and communicate your concerns with them in person rather than via the internet.
How Open Should you be?
Revealing too much about your social life in the workplace is not always a good idea. Find out more in our article
What is Too Much Information in the Workplace?
You might also like...