Careers and Parenthood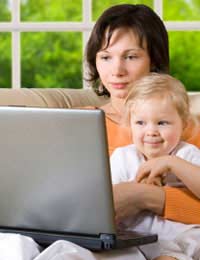 It is one of the eternal problems that parents face – can you have it all? If you have been dedicated to your career, taking time out to have a baby can seem daunting. Yet, leaving your baby to return to work can cause great amounts of guilt. As a father, your priorities will probably have changed and you will want to be able to spend more time with your family. Parenthood is an amazing experience, but can also be a challenging one as you seek that Work-Life Balance.
Maternity Rights
As a woman, when you fall pregnant you are entitled to certain rights. As long as you have been with your employer for at least 26 weeks before the 15th week of your pregnancy, you will receive 90% of your salary for the first 6 weeks of maternity leave and statutory pay - currently £135.45 - for the next 33 weeks. You are entitled to take up to 52 weeks maternity leave. You employer must also keep your job open for you if you decide to return to work.
Drop The Guilt
As a parent it is very easy to feel guilty about leaving your child and returning to work. It is a constant battle but you need to try to drop the guilt. Remember that you need to earn money for your family and that you are setting a good example for your children. Rather than feeling bad about it just try to focus on finding a good family-work balance so everybody benefits.
Flexible Working
Over recent years there has been more of a move towards flexible working. Many companies are allowing their employees to start earlier, work from home or have more say about how they do their time. This is good news for parents, as it helps you to juggle your family commitment with your job.
Career Breaks
Often one parent, usually the mother, chooses to stay at home to raise the children. Once your children are older you may wish to return to work, but this can prove difficult if you have been out of your career for a long time. While parenthood is a major commitment, try to also make time for other roles that can aid your career development. Whether this is
Part-Time Job
,
Voluntary Work
, or training, it will help you get back to work when you are ready.
Parenthood is one of life's great adventures and juggling a family with a career is always difficult. Try not to feel guilty if you return to work and remember that you are doing it to support your family. See if your employer will offer you flexible working hours so you can find the work/life balance that you need. If you decide to Take A Career Break to raise your children, find ways to keep your skills current so it will be easier to return to work in the future.
You might also like...