How to Get Noticed for Internal Opportunities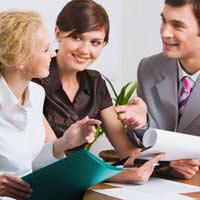 Just because all the talk is of economic doom and gloom, it doesn't mean that there aren't plenty of opportunities out there.
If you're dedicated, highly experienced, flexible and open-minded, there are certainly still all manner of ways to make sure you are the one out of all the applicants that gets noticed.
But what about internal opportunities? Jobs with your current employer can actually be a very effective way of keeping your upward career trajectory during a difficult economic period – after all, presumably you've already proved yourself to them and should be one step ahead of the competition.
So how do you make sure you stand out when applying for internal jobs with your current employer? You must not think that you will automatically be considered for an internal vacancy, even if you've previously said that you'd be interested in the role. You must assume that it is for you to contact the relevant person and make it clear that you want to apply for the internal vacancy.
Where to Start?
First up you need to make sure you're in the loop so that you actually know about the internal vacancies in the first place. Some companies make it easy as they have a certain notice board or page on their intranet where you can access the latest information; if this is the case with your employer, make sure you check it regularly. Other companies almost seem to pride themselves on making their internal vacancies hard to find out about – they may only tell their HR division and it is therefore your responsibility to stay in touch with HR.
If you do not know how internal vacancies are advertised, your best bet is to ask HR anyway. This also means that they will be aware that you are looking, so it is important to get what you will say to HR clear before you approach them. Regardless of whether you work for a massive corporation or a small family-owned company, telling HR that you a considering a move – even if it is only internal – is something that needs suitable management so that you do not jeopardise the job you already have.
How to Speak to HR
Once you have decided to consider internal vacancies – whether it's a particular job that you already know about or to show an interest in internal vacancies in general – you need to pop in to HR. You will know the exact set up of your company's HR department, but as a rule you need to highlight the fact that you're really pleased with the company and want to continue your career with them. Say that you are aware of a current internal vacancy that sounds really interesting, or that you wanted them to know that you're keen to be considered for internal vacancies.
How to Stand Out in Your Current Job
Obviously we're assuming you haven't been rubbish at your job up to now and think that you're suddenly going to wow your boss by being good at your job! So if you've been performing pretty well, or even very well, and you're now aiming to hook an internal vacancy, now is the time to go that extra mile. Remember the old saying, "Dress for the job you want, not the job you have" and smarten up –
dress as the people in the type of job you are applying for dress
, whether that's more creatively, more fashionably or more professionally.
You must also be seen to be on time everyday, not be the first to leave and not take overly long lunch breaks unless you are entertaining clients. That's not to say that presenteeism is the order of the day – you do actually have to work, not just be sat at your desk or loitering at the coffee machine!
In terms of actual performance, now is the time to really make sure you shine. And that includes not letting other people take credit for your work or to overshadow you. If you have a colleague that loves to pretend your ideas are theirs and you've previously let it slide, now you need to mention it – not about old issues (you'll just look petty) or make a big deal of it (you won't look like a team player) but to say something like, 'Oh I'm pleased you've used the idea I brought to you' or 'Ah I pitched that to you last week, didn't I?' if you want them to squirm just a little bit!
Go the Extra Mile
Now is the time to go the extra mile – put yourself forward to go to those dreaded breakfast networking meetings, or call a client back before your boss reminds you, or come up with a way to save money on a certain project. Whatever you can do to show that you value working for the company and have a strong, long-term commitment to make to the business, it's now or never!
You might also like...