Being Heard in Work Meetings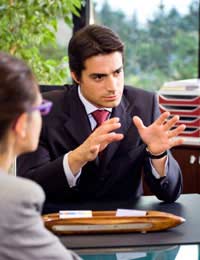 While meetings can be a tiresome interference to your busy day, they can also be a good place to have your thoughts and ideas heard. By doing this you can let yourself stand out from the crowd and make more senior team members remember you. If your opinion isn't specifically asked for, though, it can be difficult to find the right time to speak up. A little bit of confidence and thought can go a long way to giving you a voice in business meetings.
Look The Part
Business meetings are all about standing out while also fitting in. If you are in a corporate environment, you need to
Dress Smartly
and conservatively, while in a more dynamic company it may be more important to dress fashionably. Choose your outfit to match the people that you are
Trying To Impress
and make sure you are well presented in terms of hair, make-up and general appearance. Think about what your body language says about you and sit up straight, with your arms uncrossed and look attentive.
Be Confident
Being confident in a meeting is easier said than done. It can be very intimidating to speak up in front of a room full of associates and it is easy to feel scared. The best way to overcome this is preparation and practice. Know what you want to say and have a go at delivering it in front of the mirror or a friend. On the day of the meeting wear something you feel comfortable in, leave plenty of time and take some deep calming breaths.
Plan Your Answers
You can never predict exactly what is going to be said in business meetings but you will have a general idea of the topics that will be covered. Think about what you would like to get across during the meeting and plan some answers out in advance. During the meeting, also be thinking about when and what you might say so that you are not caught off guard if you are called upon.
Be Nice
It may sound like a very simple thing – be nice – but it can make or break people's responses to you. Manners can go a long way, especially in a heated meeting. Never raise your voice, cut somebody off or show too much disdain on your face or in your body language. People will be much more willing to listen to what you've got to say if you present it in a clear, confident and calm way without offending any other team members.
Being heard in meetings can make a big difference to your career progression as it brings you to the attention of senior team members. Prepare your ideas in advance and practice presenting them so that you feel confident. Choose appropriate clothing and make sure you that you are well presented. On the day of the meeting, arrive early and relax. During the meeting, think about what you are going to say and make sure that you are polite and respectful to other team members.
How to Impress Decision Makers
Struggling to make your boss see your true potential? Read out article
Show Your Potential To Decision Makers
for top tips on how to stand out from the crowd.
You might also like...