Building Soft Skills in a Workplace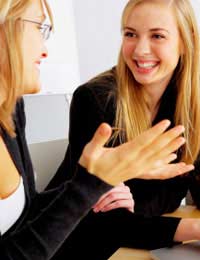 As well as education and experience employers are now keen for their staff to have well developed soft skills. These skills, such as team work and communication, are very important in any company and help business and relationships to run smoothly. To develop your soft skills you first need to identify any areas of weaknesses. Ask your colleagues, friends or manager about which attributes you could improve. Then Ask For Training in the areas you need to improve and make use of Your New Skills in your career development.
What Are Soft Skills?
Soft skills is a modern term for the attributes that make an office run smoothly. These are those skills which don't come with a formal qualification but are either a natural talent or taught through practical experience. They include areas such as team work, using your initiative and effective communication. Companies have realised that these type of skills are key, and are spending more time and money to make sure their employees have them. They are also more of a focus when applying for jobs and being able to prove you have well developed soft skills will aid your career development.
Identifying Your Weaknesses
In order to improve your soft skills you first need to identify which ones you are good at and which areas you could improve on. Take an honest assessment of your attributes and think about which types of situation you struggle in. Ask you friends and family about it as many soft skills and also personal attributes. Talk to your work colleagues and your manager and get them to give you constructive feedback about the skills which you could improve on.
Asking For Soft Skills Training
Once you have identified the soft skills that you could improve on you need to take practical steps towards doing so. Talk to your manager about gaining some practical training in these areas and explain your desire to improve. Give solid examples of why this training would help you and the company. Also, show initiative by looking at ways that you can work on these areas in your everyday duties and learn from your colleagues.
Soft Skills And Career Development
Employers are much more clued up now about the benefits of their employees having strong soft skills. Because of this, emphasising yours could help your career development. In interviews be ready to give solid practical examples of when your soft skills have come into play. Talk about any soft skills training you have received and how you think these attributes have aided your career development.
Soft skills have always been an important part of any working environment but have not always been given a name. Now that employers are more focused on the need of these skills it is important for your career development that you work on yours. Identify your areas of weaknesses and then ask for soft skills training in the areas you need to improve. Work on honing your skills in your everyday work and use your experience to boost your career development.
Handling Stress
Do things tend to get on top of you in the workplace? Finding the best way to manage stress can have huge benefits for you at work and at home. Learn more in our feature
How To Handle Stress At Work
.
You might also like...