How to Be Your Own PR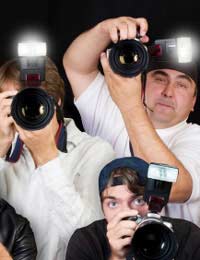 Anyone who is famous or very well known in their industry will have a public relations (PR) team working overtime to perfect their image. The PR people will make sure that they look the part, sound the part and that everyone knows about all the wonderful things that they are doing. You may not have a PR team behind you, but you can take some of their advice and work on your own public image. By strategically taking control of the way you are perceived, you can steer your career in the direction that you want it to go and make sure that your name is the one on everyone's lips.
First Impressions Count
It's true, first impressions count. If you can get someone to warm to you, they will be a lot more lenient about anything that you do or say.
Dress Appropriately
so that you stand out, but for all the right reasons. Hold yourself with confidence, as if you have a lot to be proud of and enter any room with grace. Also, the first rule of PR is don't forget to smile. It makes you seem more approachable, open and friendly in an instant.
Make Yourself Known
The role of PR teams is to make sure that their clients get a lot of exposure in the right way, to the right people. To do this for your own career you have to make sure that the important people in your company or industry have heard about you.
Start Networking
,
Speak Up In Meetings
, and never let anyone else take credit for your work. You don't want to brag but make sure that your achievements are passed on by word of mouth.
Cultivate Contacts
The PR world involves a lot of schmoozing. They wine and dine people, give them gifts and generally try to keep them happy and receptive. For your career, you can do these things on a lighter level. There is no point meeting the right people if you don't keep in touch with them. Network regularly and meet contacts for a coffee or lunch. Try to help them out when you can so that they owe you a favour and be consistently genial and attentive.
Manage A Crisis
Another role of PR teams is to dampen the fire when things go wrong, They will have a strategy for how to deal with any crisis and make sure that the damage to their client is as little as possible. Hopefully you won't have too many career crisis, but if you do, you need to handle them well. Make a plan of how to deal with it, decide what you want to be known and how you will control who learns about it. Hold your head up high and maintain a professional, dignified approach at all time.
If you aren't lucky enough to have a PR team working on your behalf, you can still work on your own public relations. Make sure that you make a good first impression and cultivate the contacts that you meet. Speak up in meetings and network so that people are aware of you and your achievements. Also, consider how you would handle a career crisis and try to limit the damage that the situation could cause.
Show Your Potential
Making your superiors aware of your work and your abilities is one way to progress in your career. Read our article
Show Your Potential To Decision Makers
to ensure you stand out from the crowd.
You might also like...