Career Mistakes to Avoid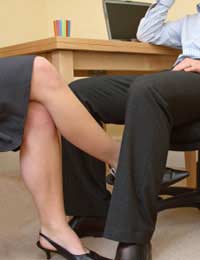 There are some things that most of us just shouldn't do in life – speedos, white bikinis, tequila shots and dating married men to name a few! Make sure that you add some career killers to the list as well. It can be challenging enough to steer your career in the right direction without trying to recover from a huge mistake that can put a curse on getting your dream job. Keep your life, Stress Levels and career development under control by thinking about your actions before it's too late.
1. Sleeping With The Boss
If any story is unlikely to have a happy ending, it is sleeping with your boss. Whether it is a quickie at the office party or an extra-marital affair, it is never worth the damage it can do your career.
Office Gossip
is rife and the news will soon get out, however much you try to hide it. Not only will it ruin your current job but industries are tight knit and it may mean important contacts get to know about you for all the wrong reasons.
2. Getting Sacked
This may sound like a no-brainer but sometimes other circumstances or pressures can get in the way and cause you to do things that you wouldn't usually do. Whether the incident constitutes gross misconduct or just a small infringement, it is always going to act as a career killer. It is difficult to cover in
Your CV
and tricky to explain to future employers, so think about your actions and the impact they could have on your career.
3. Taking Too Much Time Out
It is common nowadays to take a year out to go travelling and many women also leave their career to raise children. However, if you find yourself out of the workplace for a long period of time it can be difficult to get back in again. The needs of an industry change, technology advances and employers may think that you are out of touch after too long away.
4. Lying on your CV
You've all heard the stories about the guy who lies on his CV when he is 21 and then gets caught out 30 years later when the company decides to make him a director. If you lie about your experience or qualifications, you are always going to get caught out in the end. It is fine to emphasise the positive and omit any indiscretions but never make things up and if questioned on a situation, always tell the truth.
5. Throwing Too Many Sickies
Only take time off sick when you really ARE sick. Just feeling under the weather is not a good enough reason to call in sick. Your colleagues will not appreciate having to do your work for you – and if it comes to a
Promotion
choice between you and a fellow employee, your sick record might be the one thing that swings it against you.
It is never going to be easy to overcome a career killer but it is possible. You need to put a positive spin on the situation and focus on your skills and attributes, rather than your mistakes. Seek some career advice to guide you in the right direction and be creative in the way you word your CV. If you are taking time out, try to do some part time or Voluntary Work to boost your skill base. People do recover from career killers but it takes honesty, determination and time.
You might also like...