Discussing Your Career Options With HR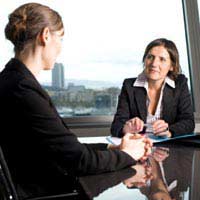 Although it is imperative that you are professional and discreet, talking to your human resources (HR) manager about potential internal vacancies can be a terrific way to get your application to the top of the pile.
Remember that people are not mind readers! Your HR manager is unlikely to know that you are looking for a career change or career development opportunities unless you make it clear to them, so you need to make an appointment to discuss your options.
Do Some Homework
Start by researching the HR department in your company. It may sound a little sneaky, but it will be time well spent if it turns out that your company does not encourage people to change departments, or does not like internal
Promotions
for certain positions. The best way to do this is to speak to past employees – with LinkedIn and other professional social networking sites so easy to navigate, this is a good starting place.
It is also worth looking into how many people in the type of position or department that you are considering for your career change have been promoted internally. If you find that no one has been promoted internally, you may decide to continue your career change adventure with a new company. It may still be worth your while talking to HR, as long as you are prepared that it may make your current position untenable.
Make a Confidential Appointment
Once you have decided that your HR manager has the potential to be helpful in your quest for a career change, make a confidential appointment. If you already have a good relationship with them, simply send an email asking for a short meeting to discuss some ideas. If your company is larger, more formal or you do not have a current relationship with your HR manager, you can still request a meeting by email but make sure that you keep it 'bland', such as saying that you would like to speak with them at their earliest convenience.
At the Meeting
The fact that your HR manager is potentially a rich source of exciting career possibilities means that you have a lot to gain from the meeting, so it is important to put your best foot forward. This is especially true if you work for a large organisation whereby you may not have had much contact with your HR department.
The best way to get the most from the meeting is to start by highlighting your commitment and loyalty to the company. Explain that you're looking to develop your career and you are motivated to challenge yourself and your skills. Say that you would far prefer to stay with the company because you enjoy working there/you think there are plenty of opportunities/you feel part of the company…whatever is most appropriate to your situation.
Once you have set out your stall by saying that you do not want to leave but that you do want to broaden your horizons, a good HR manager should be keen to help you realise those dreams. Ask about possible internal vacancies and be clear about the types of role, project or team that you would like to be part of. You cannot expect the HR manager to find an exciting new job for you if you've not put any work into helping yourself – say that you know a certain team has won a great contract and you'd love to contribute your Project Management skills, for example.
The golden rule in discussing your career change options with HR is to be clear about your desire to stay with the company and be able to explain what you hope to achieve in your career within a certain time frame.
Advice on Applying for Internal Jobs
Thinking about
Applying For An Internal Vacancy
? Our article in the
Career Development
category of this site has lots of practical suggestions for you.
You might also like...