Which Career Direction is Right for You?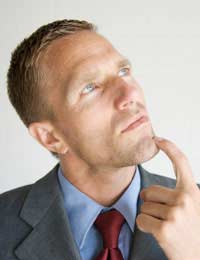 It's all well and good thinking about changing career, but what happens if you start a new job and find that it's just as bad as the last one? There's no point jumping from job to job, just in case you find one that suits you, because it will be very hard to make Your CV look appealing and the chances of finding your dream job that way is pretty small.
Rather than take that approach, why not allow yourself to understand your strengths and weaknesses, your dreams and aspirations, and then come up with a potential career change that makes the most of Your Skills?
Think of this questionnaire as a meeting with the school careers officer, just without that ludicrous 'computer' that suggests the most inappropriate job imaginable. Read each question and note which answer best describes how you feel.
When to Work
A. I love leaping up in the morning at the crack of dawn. I bound into the shower and pull on my suit and I'm ready for a day of corporate excellence.
B. I have to peel myself out of bed when the alarm goes, but then I'm OK. I am nearly always on time and I can turn it on when I need to.
C. I have never owned an alarm clock and I don't intend to. I can't bear being told what to do and what time to do it.
Where to Work
A. I love being in an office with other people, ideally an open plan office where people share thoughts about work.
B. I'm happy to spend time with my colleagues at work, but I also like to have my own space.
C. I snap if anyone speaks to me before my third espresso of the day and prefer to be in my own little world as much as possible.
What to Do at Work
A. My perfect day involves meetings, phone calls, targets and presentations, with a boss breathing down my neck and telling me what to do at all times.
B. I like a bit of variety in my day, so I can go with my creative ebb and flow.
C. I want to respond to my moods and be in total control of what I do and when I do it.
How to Work
A. I like to be in a corporate environment that makes my decisions for me on a daily basis and requires me to be at the top of my game each and every day.
B. I like to be working on a variety of projects that test me some days, but not other days.
C. I like to get totally absorbed in a creative project, so much that I forget to eat, drink or see daylight for days at a time, then take a long break.
Your Score
If you have answered mostly As, you may find that a corporate environment where your high motivation and ability to perform consistently at a high level will be generously rewarded.
If you have answered mostly Bs, it is likely that you will flourish in a management role where you can be pushed, just not too hard, too often.
If you answered mostly Cs, it is preferable that you become self-employed and launch your own business that plays to your obvious creative strengths, but does not require you to deal with too many colleagues. Just don't make your meetings too early!
New Business
If you are thinking about going it alone, read our article
Starting Your Own Business
, which offers some basic tips for a successful start-up.
You might also like...
@katie. Make a list of all the skills used in your job, any training/qualifications you have, what interests you most about your job, what hobbies and other interests you have etc. You could then find an online career mapping service to help you identify a career that would be suitable. Recruitment agencies and career councillors would be useful to help you apply for jobs in your chosen area. You could also consider training/new qualifications at evening classes etc. Don't let your age deter you, as the retirement age is set to go up, so you've another 15 years at the very least.
ACareerChange
- 4-Jun-15 @ 12:45 PM
I am 49, work as a mental health support worker I have done this for many years and I am now fed up of the same routine, same job, different people. I would like to do something totally different but have never done anything but this. I now want a complete change time is not on my side and need to to do something different. Is there anything I could do ?
Katie
- 2-Jun-15 @ 12:15 PM
I am a 30 year old female, with financial responsibilities ( Mortgage etc), I am very keen to get into the social work path. What steps could i take or what jobs could i do that wouldenable me to either get some work based training / qualifications, or a job in the industry that will allow me time to study towards my goals?? Thanks in advance to anyone taking time to offer me any advice. :)
anadee
- 19-Mar-15 @ 5:55 AM