New Training Schemes for Changing Careers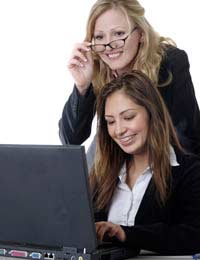 Training schemes to help you change career are available through the Government, universities, your workplace or directly with large employers. While these schemes are often over-subscribed, it is always worth applying because they offer great potential, both in terms of employment opportunities and improving your network.
New training schemes are starting all the time, so do not be concerned that it's only about the traditional 'milk round', where major employers found their next batch of graduate recruits at the end of each university year. Government training schemes to help you change career are available all year round and companies are increasingly offering apprenticeships throughout the year, too.
Government Training Schemes
The majority of the Government training schemes related to changing career are suited to those that have been out of work for some time and claiming benefits. Alongside the traditional help of writing a good CV and practising your interview skills, your local Job Centre Plus office is now able to help with courses, grants and tax credits for the newly self-employed and those looking to retrain. Courses such as IT skills training and sales skills training are available through your Job Centre.
University Training Schemes
Most universities now have a careers advisory department that can help
You Write Your CV
and apply for jobs, as well as guiding you towards potential careers that suit your experience and skill set. They often have excellent links with local businesses, so if you are happy to stay in the same area that you went to university, this is a good place to visit. You don't have to have just graduated, either, they're happy to hear from alumni.
Graduate Training Schemes
Graduate training schemes are usually operated directly by the employer. They are not only open to recent graduates, indeed many companies are now actively encouraging older graduates to apply as they can bring added value to the company. If you are not sure whether your career change application will be welcome on a company's graduate training scheme, it is worth phoning the HR manager and asking them directly as not only are they likely to be pleased to get your application, but your initiative will be a good first impression.
Training Schemes for New Teachers
There is a shortage of new teachers in the UK, especially in certain subjects, such as science, geography and maths. Consequently, there are a few schemes designed to appeal to ex-teachers and potential teachers – those that may have started work as a
Teacher
but left to bring up a family or those people that had worked in other fields but are now interested in starting a teaching career.
It is no longer the case that the only route into teaching is a PGCE qualification or a BEd degree. The Government has launched a 'learn on the job' scheme which means that new teachers are paid a wage straight away and learn from qualified teachers, rather than through additional study. This makes it a far more realistic option for those wishing to change career, especially as wider-reaching commercial and social subjects are included on the curriculum, so your experience in business could prove a welcome addition your application to the scheme.
The New Face of Evening Classes
If you are considering taking an evening class, read our article
The New Face of Evening Classes
to find out how part-time learning can boost your career change prospects.
You might also like...
I want to work in a hospital but i dont have matric.pleaze help
Tracy
- 22-Jul-15 @ 5:41 PM