Changing Career and Relocating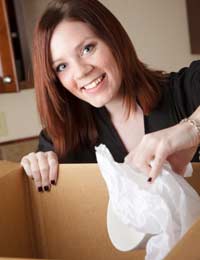 Sometimes changing careers means more than new responsibilities and a new commute. In some cases, a career shift might mean shifting to a new location as well. When changing direction in your work requires a relocation, what kind of impact will that have on you and your family? How can you weigh the costs against the benefits? How can you prepare to minimise any negative impacts?
Reasons for Locating
There are several reasons why you may need to relocate as part of a career change. First, your new calling may be for work that simply doesn't exist in your current locality. Perhaps you need to move from the countryside to the heart of the city, or vice versa. Globalisation also drives companies to create offices and send employees through the EU and around the world. Or perhaps the very nature of your new position involves working abroad.
You may find yourself in one of two positions: either the company that is hiring you has informed you of your new location, or you are choosing a new location based on the availability of the work you want to do. If the company has decided, you might not have much latitude in your personal choices. But if your relocation is self-directed, then you'll have to decide (and take responsibility for) just about everything.
The Impact of Relocating
Moving abroad will have the most stress and impact on your family. You will be planting yourselves in the midst of a new culture. Even cultures that are very close to your own could wear you down eventually – after an initial honeymoon period, the reality of what you've done will begin to set in. Culture shock is very normal and survivable, but it will cause you to second-guess your decisions. That's why you must be very sure about the new direction you've chosen for your career.
Schooling can be a thorny issue abroad. Most urban areas have international schools with good standards. If your employer is paying the bills, then your problem may be solved. However, schools abroad can be quite expensive, so if you're responsible for funding your children's education, you should prepare yourself for quite a shock!
Inside or Outside of the UK?
Relocating within the EU is a relatively simple matter for EU residents. However, if your job requires a move further afield, work permits and visas will consume a great deal of your time and patience. Once again, if your employer is handling everything, this may be transparent to you. But you should prepare yourself for several trips to the local immigration authorities.
A shift to another location in the UK will be easier in some respects, but it's still not a completely easy undertaking. The main question again is who will cover the expenses? Bear in mind that there will still be removal costs to consider. There may also be a larger mortgage payment in the new location, as well as temporary lodging costs while you look for a house or flat.
A successful relocation is much more likely if you will take the time to do some research on your own. Visit the new community and talk to long-time residents. Read the local newspaper and spend some time in the local pub. A quick look at the last election results might clue you in on local mindset. As you start to narrow down your choices, try to spend a weekend in the new neighbourhood. That way you can observe Friday night activities and Monday morning traffic.
Although relocating for a career change is difficult, it almost always offers the prospect of better career development. This is especially true in the case of moves abroad. The important thing is to not rely on assumptions – if the question occurs to you, don't be afraid to ask it and address all of the issues before you make the move.
You might also like...
What are you meant to do if you are unemployed and want to become self employed, but cant do that till you move? Most unemployed people do not own a home for a start and most unemployed people have no savings to fall back on to help them move, as they have had to use all of their savings to live on or spend on retraning. With no help from the goverment to move, the retraning is pointless and a waste of time and money!! To add insult to injury it was the job centre that encouraged the retraining to become self employed! Now I'm not only jobless I'm skint as well!
moo
- 19-Apr-11 @ 9:47 AM