Succeeding at an Interview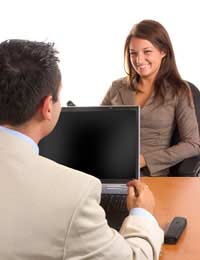 So you've sent in your CV, filled out the application form and so far it is going well. Now you have to succeed in the interview. It is easy to feel nervous and overwhelmed when you have to impress someone face to face, but interviews are all about Preparation. Knowing about the company, practicing your answers and rehearsing the scenario will all make you more ready to impress.
Do Your Homework
Whether you are applying to a small, local company or a global corporation, make sure you know everything about them. Your interviewer will want to know that you have done your homework and understand their company. Look on the internet, order brochures, talk to previous employees and read newspaper articles. The more sources of information you can scour the better informed you will be and the more about to show your knowledge.
First Impressions Count
It is true what they say,
First Impressions Do Count
and people will make instant judgements about you. Choose something
Appropriate To Wear
that reflects the tone and ethos of the company. Make sure that you are well presented and enter the interview with confidence, good eye contact and a firm handshake. Your success in an interview can be boosted by the interviewer taking a liking to you from the start, so do all you can to be one step ahead.
Rehearse Your Answers
Okay, you can't know exactly what you will be asked at an interview but you can practice your interview skills. Every interview has the same kind of questions about your past experience, providing practical examples and what you can bring to the company. Think about these things in advance and plan some answers. Get a friend or family member to give you a mock interview and assess how you do. Work on their feedback to improve your chances of success.
Show Enthusiasm
You may be nervous when you go for an interview but try to control it. Being too shy or quiet may come across as a lack of enthusiasm. If you are anxious, take deep breaths and try and focus on the positive. Show how keen you are on the company and job by talking about your research, giving specific reasons why you want it, and offering practical examples about why you would be suitable. Always have a few questions ready so you can show interest.
Improve Your Chances of Finding A New Job
If you have been out of work for a while, you may feel overwhelmed with the prospect of gaining new employment. To help you to realise your valuable skills and reduce the stress during this time, read our article
Improving Your Employment Chances
.
You might also like...