Requesting References and Referrals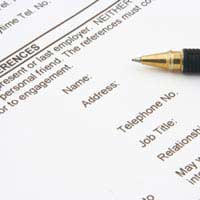 Having the confidence to request referrals and references from past colleagues and contacts is a major factor in the potential success of your career change. Perhaps the most important point to remember is that the vast majority of people like to help, so try to bear this in mind when you're feeling that you are being more than a little cheeky!
What is a Reference?
A reference is a written or verbal confirmation of the employment performance of a past or present employee, with details including time-keeping, attitude and target achievements. There is a common misconception that referees are only able to make positive comments, but while it tends to be the case that what is not said can speak volumes, there is no such requirement.
When applying for a new job or at Interview Stage, applicants are usually asked for at least two references, with one being the current employer. Although the current employer is not asked to give a reference until the applicant agrees (usually after the position has been offered to avoid issues with the current employer), the previous employee reference is usually taken as part of the selection process.
Asking a Previous Boss to be a Referee
There is rarely an issue in asking your old boss to be a referee if you left on good terms as they are likely to be pleased to help. If, however, you left on difficult terms or you feel you did not perform well in the job for whatever reason, you may prefer to ask in a different manner.
It is possible that you can 'skip' them if, for example, they have moved on to another company, but many job applications, particularly those in the public sector, are very clear about your referee being from your most recent but not current employer. It is worth thinking about asking another senior person from the same company to be your referee instead – perhaps your line manager or HR manager. A simple email asking them to be your referee for a position you're very keen to gain is enough.
What is a Referral?
A referral is when a person recommends a colleague or contact to a company or individual that they feel would be mutually beneficial. This can be done verbally or by letter or email and with
Business Networking
sites such as LinkedIn gaining popularity, it can be done online through a recognised portal too.
Asking Contacts for a Referral
It is imperative that the potential of a good referral is appreciated. A good referral from a trusted colleague or industry-valued contact is the passport to gaining a great job and achieving your career change goals, so it is more than worth your while to ask for a referral.
Bear in mind, again, that people like to help. It may be that you do not have regular communication with your contact or that you have not developed a particularly strong relationship, yet you are aware that their standing in your target industry or company is impressive. Rather than be nervous or embarrassed about asking for 'a favour', why not say that you are aware how busy they are but that you would absolutely love to pick their brains about their expertise.
Flattery will get you everywhere! Be careful not to go over the top or it will look cheap and desperate, but most people that have achieved something in their chosen career are pleased to talk about it. Say that you are passionate about the industry and are dedicated to improving your career prospects and then let them talk to you about how they may be able to help. Be sure to follow up any leads that you may gain and say thank you for their assistance.
Your Covering Letter
Your covering letter is your first chance to impress a potential new employer, and may determine whether or not your CV is even looked at. Find out our top tips to ensure you get it right in our article
Job Applications and Covering Letters
.
You might also like...