Making the Right Impression at an Interview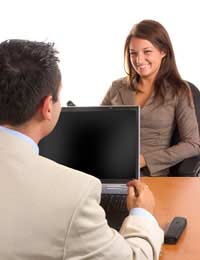 Interviews can be nerve-racking experiences, even for the most seasoned interviewee. With plenty to worry about, it can sometimes seem an additional stress to then consider the impression we are leaving behind. But it doesn't have to be that difficult, and with some prior preparation, you can relax during your interview, with the knowledge that you are creating the right impression.
Don't be Late
Double-check your interview details. Prior to your interview ensure you know the location and if necessary drive there beforehand so you know exactly where it is, how to get there and how long it takes. This should help to alleviate stress on the interview day.
If you are driving there, check beforehand about the parking situation – you may need to reserve a space, or find public parking close by. Allow plenty of time to get there, too. Even if your interview isn't during peak hours, there can always be traffic or public transport delays . If you do arrive there early, you can always wait in the car or in a nearby cafe.
Research the Company and Role
Try to obtain a job description prior to the interview.
Consider possible questions that you might be asked and think about how you might answer them.
What do you know about the company? Do some research (most organisations have details on their website, if you are applying via an agency ask them).
Prepare some questions that you would like to ask: about the role, what it is like to work for the company, the company culture, etc.
Look the Part
If you are applying for a management position, you need to look like a manager. Equally, if you are applying for a creative role in an organisation that fosters freethinking rather than suits, dress as they would. If you are not sure, then
Dress Professionally
. Don't forget the smaller details. Shiny shoes, clean nails, and a neat haircut show that you want to make a good impression.
Have Your CV with you and any relevant details, such as a portfolio. If you are relying on technology have a back-up.
Body Language during Your Interview
Be aware of how you are sitting and any distracting behaviour, such as playing with paper; this can create the impression that you are nervous. Offer a firm handshake when you first meet and hold confident eye contact during the interview. A smile can help alleviate your nerves and creates a friendly and open atmosphere.
Be Confident and Positive
It's very difficult to be confident at an interview, but similarly you also don't want to appear overly confident. But be positive and convince yourself that you do have the skills and ability to do the job. If you can convince yourself, it will be much easier to convince someone else.
Try to find positive responses to all questions; for example, if there is a career gap in your CV, explain what the skills you might have gained during this period.
If you can, avoid negative responses; your interviewer doesn't want to hear about all the problems you had in your last role and it might create the impression that you are difficult to work with.
It's important that you approach your interview with confidence. With a little preparation you can minimise any potential hiccups on the day that might cause stress, and anticipating possible questions can give you the edge on having well thought out responses. Show an interest in the company that you want to work for and ask questions that demonstrate your knowledge and preparation. Approach your interview relaxed and don't forget to smile!
Further Reading
For more information and advice on preparing for and succeeding at interviews, visit our
Job Applications Category
of this site.
You might also like...