How to Write a Good CV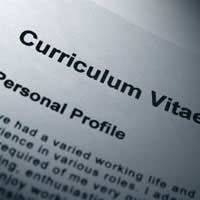 CV writing is something that almost everyone will have to do at some point in their life, whether it is your first job or you are changing careers. A CV is a way to show off your skills and experience and secure that All-Important Interview. It should focus on the positive aspects of your experience and qualifications and highlight the skills that you have learnt. It doesn't need to be fancy or colourful but should stand out because of its content.
Keep It Simple
You are not going to get the job because you have used a fancy typeface or brightly coloured paper. A CV should be impressive because of what it contains, not what it looks like. Keep it simple and let the content speak for itself. Use a plain typeface, such as Arial or Times New Roman, and a font of 10 or 12. Try to keep it to one or two pages. Anything too different or fancy will just make you look unprofessional and is likely to have the opposite effect to what you were hoping for.
Focus On Your Skills
Writing a CV is about showing the company that you have the skills that they need:
Simply listing the jobs that you have had will not necessarily prove that you have those skills
You need to talk about what you did in each role, the skills you learnt and what you achieved
Have a section devoted specifically to the practical skills that you have
Write a personal introduction highlighting your strengths
Tailor Your CV For Each Job
When you are first job hunting it is easy to write one CV and send it to every possible company. However, you will have much more success if you
Tailor Your CV
for each job that you apply for. CV writing can take time but it will be worth it. Look at the qualities and skills that they put in the job ad and show where and how you have achieved these. CV tips include tailoring your personal introduction to why you are suitable for this role, and including a
Covering Letter
showing your enthusiasm and commitment.
Play Up The Positive
Everybody has areas on their CV that are weaker than others. Perhaps you got bad grades at school, were unemployed for a while or had to leave a job. Writing a CV is about playing up the positive and hiding the negative. You should never ever lie on your CV but look at what you learnt. Explain how you developed in your time out or focus on any professional qualifications your have gained since school. CV writing is about selling yourself.
Getting a Professionally Written CV
We debate whether it is worthwhile to employ professional services to write your CV or job application in our article
Professionally Written Job Applications: Are they Worth it?
.
You might also like...
i dont have any comment i like to give you my hope and strenght.am a hard work and i like to work under preture,work as a team and i like to pacirtipat.
ohm
- 30-Apr-13 @ 9:37 AM
Ms. / Mr. Is the job in your beautiful place available now?Is convenient for me to send the CV? Thank you
adrjos
- 16-Jun-12 @ 4:53 PM