Stay on the Right Side of Colleagues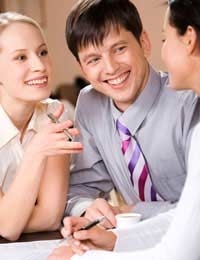 Ever since you were at school you have learnt that you are not going to be friends with everybody that you meet. However, even if you are not going to be best buddies with your work colleagues, it is worth staying on the right side of them. Successful working relationships can make life in the office a lot more pleasant. They can also help you career development as your colleagues will recommend you and tip you off for new jobs. Also, remember that your current colleagues may one day be your boss and you don't want to be on the wrong side of them then!
Socialise with Colleagues
One way to stay on the right side of your colleagues is to
Socialise With Them
. This doesn't have to mean a lot of late boozy nights. A quick drink after work or even just a daily chat at the office water cooler will help build a relationship. Pay attention to what is going on in their lives and ask about their family and children. Finding mutual interests outside of work will help you both see each other in a new light.
Bite Your Tongue
They say that you should never discuss religion or politics at a dinner party and it is wise advice to avoid them in the office as well. It is easy to get into arguments with your colleagues and it won't help day-to-day relations or your career development. If there is a real dispute, say your part but think about it first. You don't want to say something in the heat of the moment that you will regret later.
Offer To Help
It may sound silly, but there is nothing that builds successful working relationships better than offering to make the tea. Although your career development may have taken you beyond this menial task, it will always make you popular in the office. Offering to help in other ways will also get you on the right side of colleagues. Whether it is helping with a big project, covering someone that needs to leave early or taking some of their workload, a small gesture will go a long way.
Don't Tell Tales
If there is a legitimate dispute that needs settling, then you need to speak up. However,
Gossiping
or telling tales on people will almost always backfire. You will lose your colleagues' trust and won't have the back up on them in future situations. If you have a problem with someone, confront them directly and try to work out a solution between you.
Staying on the right side of colleagues can help your career development as they may be in a position to help you in the future. Find common ground with them to build your relationship and take time to socialise, even if it is just within the office. Offer to help them out when you can as these gestures will always be repaid. Try not to cause any disputes and if there are any, then talk to the person about it and try to resolve the situation amicably.
Dealing With Office Conflict
Dealing with office conflict calmly and professionally can help your career development. Read our article
Dealing With Conflict In The Office
to find out how to resolve issues within the workplace.
You might also like...