How to Get Noticed by Headhunters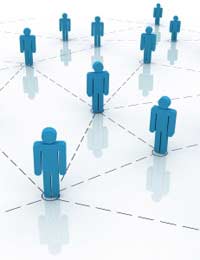 It may seem as though getting noticed by headhunters is unnecessary – after all, aren't headhunters supposed to call you out of the blue and offer you huge amounts of cash for doing a more exciting job?
It may happen like that for some lucky people, but it's far more likely that you can make yourself lucky if you bring yourself to the attention of headhunters in the first place. Remember that headhunters can only offer these exciting jobs to the people they actually know about and while it is a core part of their jobs to research the 'good people' in the industries they recruit for, there is nothing wrong with making sure you're visible to them.
There are three main ways that you can get yourself noticed by headhunters, not including sending Your CV to headhunting agencies, which rather defeats the object of the exercise. Remember that headhunters like to think they've 'discovered' their candidates, so by sending your CV to them directly, they may actually be less likely to find you a job.
Online Channels
There are so many effective online channels that anyone thinking about a career move really has to take advantage of them. Just writing a CV and sending it out to agencies isn't enough anymore.
Online ways to bring yourself to the attention of headhunters are not necessarily the first ways you'd think of, such as registering online with agencies. Think outside the box. Use your Twitter account to Network (if you don't have one, set one up now) and make sure you remember that each tweet is like a little business card. That's not to say that you have to make every tweet something 'professional' or 'job-related', but do make sure your tweets are 'appropriate' to your line of business. It's the modern-day equivalent of the old adage of Dressing For The Job you want, rather than the job you have.
LinkedIn is also a great online tool for bringing yourself to the attention of headhunters. Set up an account and import your CV (rewrite it now if it's looking a little tired) then add in people you've worked with, friends from university and any contacts. You can link your Twitter account to LinkedIn, too, which is a great way to keep your profile fresh.
Events
Attending industry events is a good way to 'see and be seen'. Make sure you act and dress appropriately (don't go silly with the free bar!) and introduce yourself to the movers and shakers. There is a fine art to networking without looking really desperate, so don't stay too long, don't look over the shoulder of the person you're talking to so you can see if anyone else more important has come in, and have plenty of business cards to give to people you meet.
Print Media
One of the best ways to get noticed by headhunters is to build a reputation as an expert in your field. Offer to write a short piece for an industry-related magazine, start a suitable blog and get involved with industry discussions. Check relevant trending topics on Twitter or start your own, linking to interesting stories.
Once you are seen as someone that knows what they're talking about, you'll be building your profile as 'one to watch', which is exactly the kind of person that headhunters are looking for, because these types of people are the most likely to be placed and earn the headhunters a fee.
Further Reading
For more information and advice on using online social media sites such as Facebook, LinkedIn, MySpace and Twitter to find that dream job, read our article
Using Social Media To Find A New Career
.
You might also like...