Socialising with Work Colleagues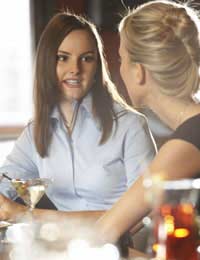 Working long hours, you often end up spending more time with your work colleagues than with your friends and family. So it is important that you get along well with them. On top of this, having friends at work can help you if you in a sticky situation and they can also be good contacts to have if they join another company. Choosing who you socialise with, where and how often can make the difference to whether it is a constructive or destructive relationship.
Making Friends At Work
When you are working with people for five days a week it can be good to make friends with them on a social level. Not only does this make your work day more enjoyable, it can be helpful to have supportive
Network At Work
. Whether you need someone to back you up in a meeting, cover for you or do you a favour, they are more likely to oblige if they know you better.
Choosing Who To Socialise With
Just like when you were at school, the friends that you choose reflect on you. Unfortunately, if you choose the lazy colleague or the boozy one, people will attribute these qualities to you. There is nothing wrong with sharing a chat or a quick drink with anyone that you work with, but think about whether it is a good idea to become permanently associated with them.
Avoiding Gossip
When a group of colleagues get together it is inevitable that there will be a bit of gossip. The odd comment isn't going to do too much harm, but avoid getting involved.
Gossiping
is a form of bullying and you don't want it to make you look bad. If a group of colleagues are gossiping then move away or tell them that you feel uncomfortable talking about people that aren't there to defend themselves.
Behaving Yourself
It is normal to go down the pub for a drink or two with your colleagues. This is fun and a great way to relax and bond with the others. However, remember that these are the people that you work with and any bad behaviour will soon get back to your boss. You may be off duty but what you get up to is still a reflection of your personality and may not stand you in good stead in the office.
Socialising with your colleagues is a fun way to relax, bond and make friends in the office. As you spend so much time at work it can be good to get on with your colleagues and they can help you out when you need it. Think about who you become associated with though and try not to get drawn into a lot of gossip. When you are out with work colleagues, watch your behaviour as anything you do will soon reach your boss.
Discretion in the Workplace
Often we make such good friends at work that we feel that we can share more personal information with them. But what is acceptable to discuss in a workplace? Find out more in our article
What Is Too Much Information In The Workplace?
A CAREER CHANGE IS FOR SALE.
This website is for sale [more info].
You might also like...